"And Now For Something Completely Different"
We like to use every opportunity to present magic in unique ways. This desire has resulted in a number of original events, making MAGIC Live like no other convention in the world.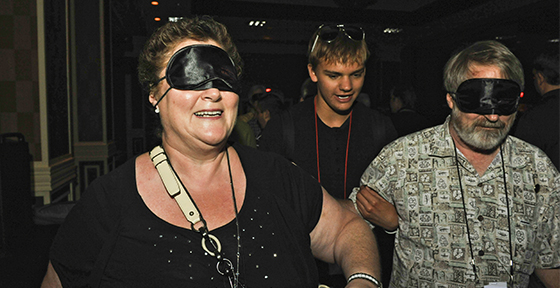 What would a magic show be like if you were blind? What if there was no magician at all? Could either of those even be done? The first question we answered in 2011 when we hosted Juan Esteban Valera's outrageously original show From the Dark. Every audience member was blindfolded, led into a dark theater, and seated with a small box of magic strapped to their leg. Through carefully scripted storytelling, the audience created magic in their minds through the senses of touch and sound. The show was a huge challenge logistically. The creator, from Chile, had never performed it for 200 people at once, so extra sets of props had to be built and assembled. A large team of volunteers led the blindfolded guests into the venue, and reset both the room and boxes between each of the six performances. Audience members left with a souvenir — a blindfold mask inscribed with, "I did not see From the Dark at MAGIC Live!"
The answer to the second question — what if there were no magician at all? — was explored in 2015 with Richard Wiseman's Experimental. After a brief introduction by the host, he disappeared for the rest of the show, leaving the audience watching the presentation completely on a large video screen. It was not a film, but more of a psychological experiment, pitting one side of the audience against another. The magic happened in the audiences hands (and minds) facilitated by props found within envelopes of "test materials" that were handed out upon arrival. An amazing card trick, a napkin that became a rose, fun with laser pointers, and more turned into a truly emotional and affecting experience.

Every magician has a story or two about performances that went horribly wrong. Sharing these experiences was the concept of 2009's Tales of Terror. Rather than just having people tell stories from a platform, we decided to set the mood a bit by turning one of the hotel ballrooms into an outdoor campsite. There were trees of all sizes surrounding a clearing with a campfire. As attendees entered the "dark forest," they were handed S'mores and sat around the campfire listening to spooky music and smelling the scent of pine trees. Mac King, in a Boy Scout uniform, showed a tent empty, warning the group that what was going to come out was "very, very scary." Those who had seen Mac's Las Vegas show fully expected a bear, but instead, out came Max Maven also dressed in a Boy Scout uniform — this one, of course, all black. Michael Weber, Mark Kornhauser, Tom Burgoon, Franz Harary, Chris Kenner, David Sandy, and others then told their performance horror stories. One hilarious moment occurred when, after being introduced, David Williamson stepped out from behind a tree, zipping up his fly. But, of course.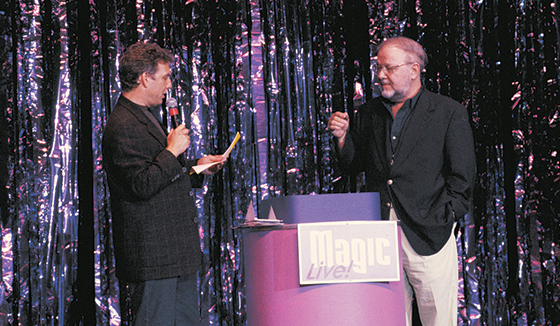 There have been four game shows produced and played at MAGIC Live. The first one was Who Wants to Win a Lifetime Subscription, a late-night event in 2001 hosted by television personality Marc Summers. A live organist provided the somewhat cheesy music as players were quizzed on trivia, all coming from the pages of MAGIC Magazine. Rory Johnston, who wrote the first game show, created a second one in 2004 and hosted it himself. One funny moment came when pictures of young performers were flashed on the screen and the contestants had to guess which famous performer they were. Daryl, who had been chosen at random as a player, was easily able to identify the mystery kid — himself. In 2007, Kerry Pollock brought in his own comedy game show, Bonk. In 2016, we took the quiz-show format to a new level. Every member of the audience had a remote device with a keypad, so they could all play the game together. Justin Willman hosted the show, making sure that there was plenty of comedy mixed in with the trivia.

What will be the surprise show of 2017? If we told you now, it wouldn't be much of a surprise, would it? As always, expect the unexpected.
Ready for the next one? August 13-16, 2017
Don't miss important updates about the next MAGIC Live!
Join Our Mailing List
Find out when we share new information.
[emailpickup redirect="https://www.magicconvention.com/welcome"]