Prizes
One of the innovations of MAGIC Live is the Grand Prize Giveaway. It was introduced in 2009 by Brian Daniel as a way to increase excitement and sales in the opening night's Cover Party. For every $20 spent in the dealer room that night, the buyer received one raffle ticket. Our teen interns, dressed as characters from Men in Black, milled around the packed sales floor collecting the tickets, which came in by the handful. Names were drawn every twenty minutes from a large hopper onstage. Each lucky winner selected a silver briefcase, similar to the ones used on the popular TV show Deal or No Deal. The cases, however, were locked and only opened at the end of the night, revealing the prize within. To add to the fun, each winner was given the opportunity to trade their unopened case for another case. Dealers and attending celebrities provided amazing one-of-a-kind gifts, such as a complete set of Bill Malone DVDs and a personal lesson on performing Sam the Bellhop from Bill himself; or an autographed lightbulb and copy of Marvyn Roy's autobiography, Mr. Electric Unplugged, plus lunch with the living legend.

The raffle and prize giveaway was so successful in 2009 that it has become an integral part of our opening night festivities. That first year, we printed up enough tickets for $100,000 in sales. And we ran out! The following year, we doubled the amount. And we ran out! We now print over $400,000 in raffle tickets.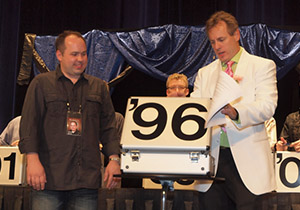 In 2013, as the winners were announced, they selected numbered mylar ballons, the numbers coinciding with prize packages displayed onstage. When it came time for the big prize reveal, each winner was asked to bring a friend up with them. Since the theme for the convention was Friends, we gave prizes to both the winner and their friend, doubling the total amount of prizes. The prize packages themselves have become quite spectacular.
In 2015, every winner took home a prize package worth well over $1,500!
And one person, drawn at random, had a chance to win $100,000 at our Bon Voyage party. He didn't quite make it, but he did go home with $1,000 cash in his pocket.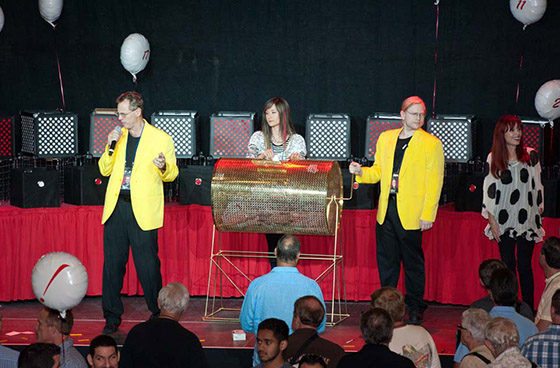 Photos: David Linsell
Ready for the next one? August 13-16, 2017
Don't miss important updates about the next MAGIC Live!
Join Our Mailing List
Find out when we share new information.
[emailpickup redirect="https://www.magicconvention.com/welcome"]