One-Man Shows
One-man shows have been a part of MAGIC Live on numerous occasions. Well, to be accurate, some of them weren't just one man. For example, in 2007 we curtained off the audience seating at The Orleans Showroom down to parlor size and presented an intimate evening with The Flicking Fingers, nine off-the-wall, talented guys from Germany. It was a single group however, so that sort of fits into our theme here. Sort of.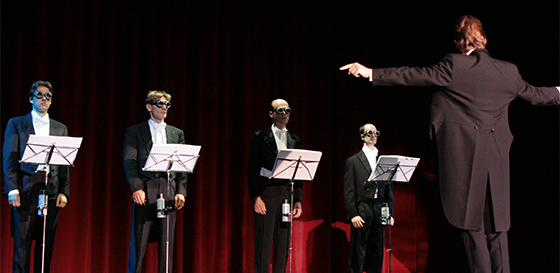 Another that just kind of fits our category (but not really) was the show presented by one pair of crazy individuals, John Carney and David Williamson, in 2013. Their unique brand of insanity also featured a third performer, if you count Carney's alter-ego the eccentric Mister Mysto. So, admittedly, it wasn't a one-man show, but it was a one-of-a-kind chance to see these two magic stars team up in a single frenetic performance.
A third square peg into our round hole was 2015's MAGIC Cabaret featuring David & Leeman. Coming straight off a year of heavy television exposure, including America's Got Talent, this hip, young duo from Los Angeles did their full 60-minute cabaret show. These two, who often finish each other's sentences, presented a high-energy, comedic show with lots of laughs and strong magic.
What fits a bit better into our list is The No Show, presented the same year as The Flicking Fingers (2007), featuring Dana Daniels. While Dana was accompanied on the piano by Richard Allen, and onstage by Luigi the parrot, it was basically a one magician show developed over years of performances at Disneyland — comedy magic at it's very best.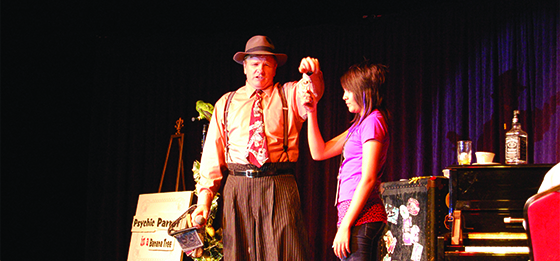 In 2009, Tim Conover in Concert featured the mentalist in his own production — the same one he presented for lay audiences. As it turns out, due to his untimely and tragic death, it was one of the last chances magicians had to see this master at work.
Another one man hit that same year was Expert at the Card Table, starring Guy Hollingworth. This one-hour theatrical close-up show, directed by Neal Patrick Harris, presented the story of Erdnase, illustrated by beautiful and elegant displays of card handling. It was part play, part magic performance, and pure entertainment.

The following convention, in 2011, MAGIC Magazine's long running Talk About Tricks editor, Joshua Jay, was featured in his brand new one-man show, Unreal. Joshua combined multi-media and magic with his autobiographical story to present a presentation both unique and astounding.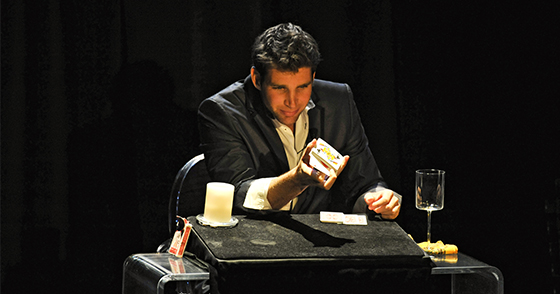 One of our specialty shows wasn't really even a one-man show, it was a one-voice show. Chile's Juan Esteban Varela presented From the Dark to a blindfolded audience in a dark room, so they were only able to hear the sound of his voice as they explored the props inside of a box on their laps. An interesting bit of trivia: as Juan was talking the audience through the experience, he also wore a blindfold!
For 2016, Mark Haslam brought his one-man show to Live! Combining storytelling and sleight of hand, The Scret Class brought to life the charming appearance of a master magician in a small English Village.
Ready for the next one? August 13-16, 2017
Don't miss important updates about the next MAGIC Live!