Divided We Stand: Documentary Live 2011
Mike Caveney has been compiling information on the Sawing in Half illusion since he was in his teens, and has been talking about writing a book on the subject for over forty years. We figured, since the book wasn't anywhere near the horizon, maybe it could be an article for MAGIC Magazine. Then it occurred to us that the subject might make an interesting talk at MAGIC Live. Months later Stan heard "United We Stand," one of the songs from the movie Quest for Camelot, and for some reason the Sawing talk came to mind and two things happened: the title Divided We Stand was born and the talk became an entire show, something we called a "Documentary Live!"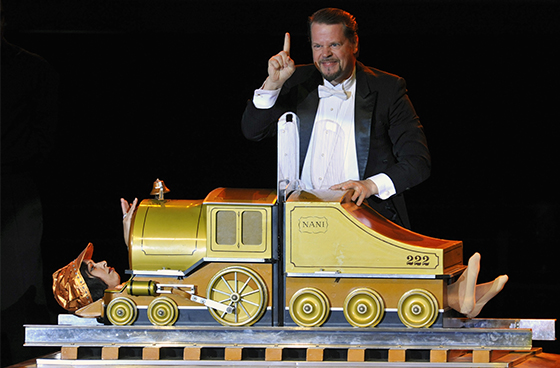 The next day Stan jotted the title on the white board, and Rory Johnston jumped all over it, convincing him it was a good idea and that we should produce it at the 2011 MAGIC Live!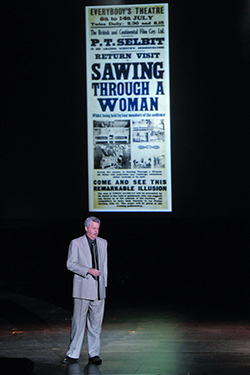 The only person to write the show was, of course, Mike. Being both a historian and an entertainer, he could create a show that was not only informative, but also fun to watch. There was only one problem. Cave was not sold on the idea. Granted, presenting a show with the same trick performed over and over, for an audience already familiar with the trick, might be considered a bit risky. But we like to do risky, so we kept at him. The truth is, we simply wore him down. Mike finally agreed to write and host the show.
Bill Smith, upon hearing about the show, immediately suggested a recreation of Harry Blackstone's Buzz Saw, complete with himself and Allen Bracken, both original assistants to Harry Jr., standing by David Charvet's amazing impersonation of the master. Gay Blackstone, not knowing exactly what we were up to (we wanted to surprise her), even supplied us with Harry's original wardrobe.
Choosing the other performers was difficult because there are so many wonderful versions of the illusion out there, but we eventually narrowed it down to Jonathan Pendragon presenting Clearly Impossible as both the opener (cutting) and closer (restoring), Mark & Jinger Kalin doing the Selbit/Wakeling Sawing, Kevin James with his outrageous Operation, and Greg Wilson recreating his parent's Train Illusion concurrent with video clips of Mark and Nani performing the effect. When Mom and Dad came onstage for bows, the standing ovation was long and loud.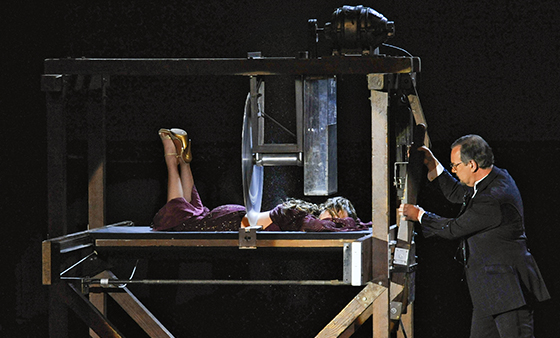 In fact, both performances received enthusiastic standing ovations. The show was, according to the audience, an unqualified success.
Ready for the next one? August 13-16, 2017
Don't miss important updates about the next MAGIC Live!
Join Our Mailing List
Find out when we share new information.
[emailpickup redirect="https://www.magicconvention.com/welcome"]