MAGIC Live 2015 — Adventureland
Words by Steve Bryant. Photos by David Linsell.
The following review appeared in the October 2015 issue of MAGIC Magazine.
When I first agreed to write up these notes, I envisioned that the title of the piece would be "Magnificent Seven." Given the track record of past MAGIC Live events, I could count on this year being magnificent, and the enumeration was convenient. Having experienced MAGIC Live VII, however, I think "Adventureland" is much more appropriate, despite its being magnificent, and I trust you will agree. Come along with me… SB
Welcome to the Adventure
MAGIC Live events have always been themed, with the first five keyed to various anniversaries of the magazine, and the sixth to the theme of "Friends." The seventh, just held at The Orleans in Las Vegas from August 9–12, stepped boldly where no convention has gone before, into MAGIC Live: The Adventure.
Stan Allen and his staff immersed us in the adventure paradigm at Registration and never let up on that commitment. A strong graphic presence — part Indiana Jones, part Pirates of the Caribbean, part Disney Jungle Cruise — impacted our four-day journey, beginning with a rotating wall projection in the registration room. Here, we received a sheet of personalized tickets, including one for a $100,000 drawing, from various staff and interns, including John Signa in full safari regalia. So there's treasure to be had on this adventure.
On to the swag, the gear we would need to see us through the complexities of General Sessions, Focus Sessions, evening parties, and ticketed events that lay ahead. Let's take inventory: a pocket compass, a notebook with pen, a photo badge enhanced with adventure-themed artwork (red lanyards for morning Sessions, blue for afternoon), a passport-shaped schedule, a map (more maps or travel documents would follow daily, reinforcing the theme and guiding us through the impending events), and a pouch to contain the maps. A laser pen would come later. All the stuff could easily be carried in a green canvas satchel with leather shoulder strap, and I saw many people proudly using it, including one with his own Las Vegas magic show. This is exciting stuff, a far cry from the little magic tricks and souvenirs you get at more prosaic conventions, full of dark promise, as though we were all characters in a Saturday afternoon movie.
Let's take a closer look at that first map, because we're going to use it to steer us through the first portion of this report. It's a beautiful, two-sided, old-fashioned nineteen-by-thirteen-inch document. One side explains the Bon Voyage party, the Treasure Giveaway (as usual, every $20 spent at the dealers on the first night gets you a raffle ticket with which to win one of nine treasures, each worth over $1,500), the General Sessions and Focus Sessions (adventurers may choose two out of three of the latter), the Vault (instead of printed notes, online notes would be available following the convention), and a few Travel Tips (some rules, some suggestions on when to queue up).
On the flip side, in addition to a welcome letter from Stan challenging all to visit uncharted territories and to excavate a few old lessons, is the map itself, a group of sepia islands set in a turbulent pale blue sea. Following the dashed line (as you would, say, in the movie Casablanca), the traveler journeys from the Registration island to that of The Grand Bazaar, then on to the General Sessions Territory, then to the Focus Sessions Territory, and finally to Show Island. The session islands reveal, for the first time, the names of those who will be diverting us along the way. The stunning artwork, to be unveiled by daily navigation updates, was rendered by David Starr.
We're off! Let's continue, moving on from Registration to…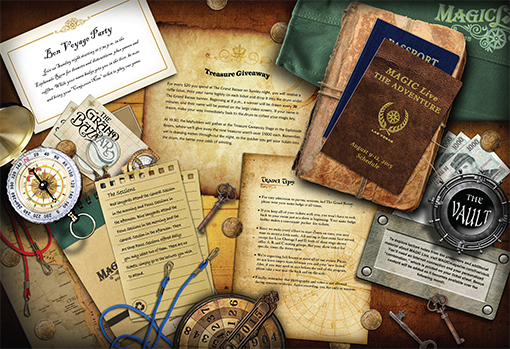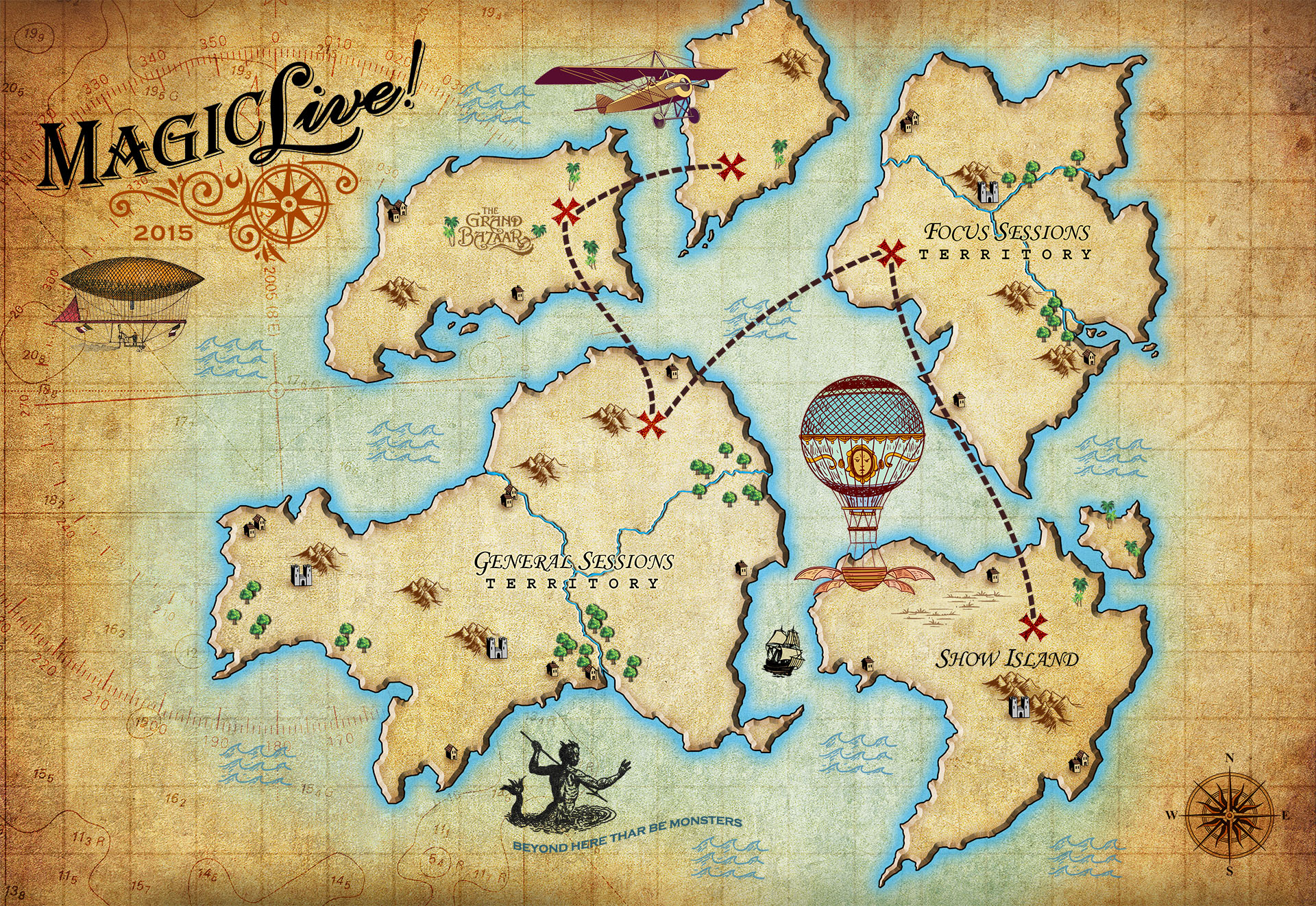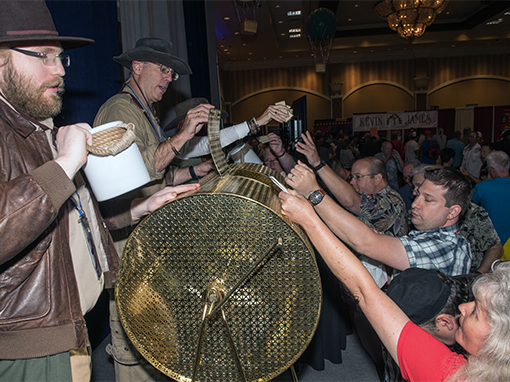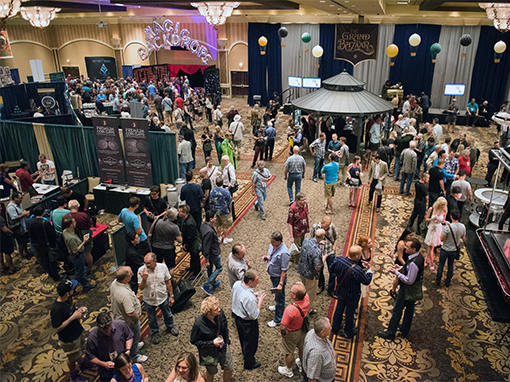 The Grand Bazaar
The Bon Voyage Party was the first social event of the convention, and it was here that we received, instead of a stack of cover photos for the usual trading card game, an envelope stuffed with "reproductions of rare cabinet cards from a turn-of-the-century vaudeville company known as The Conjurors Nine — all of whom died horrible deaths." They bore names such as Great Bluedini, Dark Sorcerer, El Diablo, The White Witch, and so on. Their lives and their deaths were amusing. The White Witch, for example, an exponent of hypnosis, "was discovered dead with a massive amount of sleeping pills in her system. Apparently she grew sleepy — very, verry, sleeeeepy."
Had my own demise been reported that evening, I'd have been found full of hot fudge sundae, for MAGIC Live knows how to send you on a culinary adventure as well as an entertainment adventure. Magicians love ice cream.
But even ice cream couldn't hold us back from the feeding frenzy that ensued as the gates opened to the Grand Bazaar itself, some 48 dealers looped into a sort of figure eight within a 17,700-square-foot space. There is nothing else like it in magic, with offerings for the meanest budget to the most extravagant. At the MAGIC Magazine pavilion, you could pick up back issues for as little as $3 (if you bought four); while at the nearby Mike Michaels exhibit, you could take home a production motorcycle for $22,500, the beautiful girl in leather astride it (Mrs. Michaels) not included.
Because of the $20 raffle ticket deal and because we were, after all, magicians in the world's largest magic shop, opening night sales were brisk, and plenty caught my eye. G. Sparks had several items with small glassware, my favorite being his Never Ending Drink ($40), while across the aisle from him Tom Yurasitis Productions had an animatronic Rabbit in Hat routine, complete with card fountains ($2,650). H&R Magic Books wisely stocked a pile of Steve Forte works ($50 for the poker book, $300 for Casino Game Protection), Meir Yedid similarly stocked Stars of Magic ($45), and Richard Kaufman was practically giving books away (Richard's Almanac, $25; Greater Artful Dodges of Eddie Fields, $15). Meir was kind enough to share the secret of his WOW Book Test ($75), and it's very clever. The kids loved watching Gregory Wilson spin a deck of cards on his fingertip as a Harlem Globetrotter would a basketball (Revolution, $35), and I found it very creepy to be holding a Cesaral Safety Coffin Spirit Bell as it rang in my hand ($450). I likewise coveted a Three-Shell Game from Joe Stevens with the shells shaped like small human skulls ($68). When asked if I had seen anything special in the "dealer room," that answer was easy: Rhino Flight from Magic Backdrops ($3,700). This was a self-contained levitation of a human being (anyone from the audience, up to 350 pounds) built into a table about half the size of a card table. The floating assistant lies on his or her back and then rises, and the effect reminded me of the levitation Criss Angel performed years ago with someone's girlfriend on Fremont Street. Various magicians tried it throughout the evening and attested to its comfort, the E-ticket ride of the night.
Alas, the raffle ticket I received for buying Andy Dallas' No Tear Newspaper from Mark Mason did not earn me one of the $1,500 prizes, so I have no further comment. I am still smarting from not winning a few years ago, when one of the prizes was lunch with Bill Malone, at which he would teach you any trick from his repertoire.
On opening night, the crowds in the Grand Bazaar were such that we were reduced to ambling along like zombies in an apocalypse film, a situation that resolved itself as our adventure took us to…
General Sessions Territory
It was a red lanyard for me, hence morning Sessions, opening with Stan Allen's "Keynote Address." Stan challenged us with the word curiosity, inviting us to look outside our comfort zones. There would be plenty of opportunity along the journey.
Simon Coronel of "Walkabout Soup" emceed the Monday Sessions and filled us in on The Delusionists, an Australian anti-Illusionists show that suddenly found itself in competition with the real Illusionists, resulting in a funny cease and desist letter hoping that all involved could "avoid formalities." Among other small effects, Simon had an amazing routine in which he plucked his fingers off and replaced them in different locations, reminiscent of early Meir Yedid.
In no special order, Peter McKinnon's "The $30 Video Production" taught how, McGyver-like, to shoot a video on a shoestring budget. Jamie D. Grant on "The Memorized Deck" taught a system that had promise, but so fast — he was memorizing a deck as he taught it — that it whooshed past me. I'd love to revisit it. (And I can: the notes supplied in the Vault are highly detailed.) Wayne Houchin lectured on "What is Important" and shared an ingenious Drawing to Impossible Location with roots in a Guy Hollingworth idea. Alex Hecklau on "Produce Your Own Regular Show" described his original Close-up Club that he started with five guys; there are now twenty such venues throughout Germany.
Former Long Beach Mystic and juggler David Deeble emceed the Tuesday talks with great humor. "Juggling," he said. "It's like magic, but without the girlfriend." His skills included ultra slow motion juggling of plastic grocery bags, tossing up a billiard ball with his foot and catching it in his eye socket, and "face juggling" (rolling the ball about his head). All this, he boasted, and "I'm also a notary."
Mark Kornhauser — who writes my favorite of the magazine's columns, "For What It's Worth" — proved again to be as compelling a speaker as he is a writer. Emceeing the Wednesday events, he cautioned us to not base our opinions on those of other people. "Have you met these people?" I found it highly amusing that Mark's advice on how to end up with a million dollars from magic was more surefire than Joel Bauer's: "Start with two million."
Charlie Frye, who as always killed on the stage show (more on that below), opened his "On the Subject of Character" talk with a story of his being a victim of armed robbery. An expert artist, Charlie quickly supplied the police with a detailed sketch of the perpetrator and the info that a Bunny Bill was among the stolen cash. The police had their man in 45 minutes. Getting to his topic, Charlie provided a generous clip of his mentor and idol, George Carl, a loosey-goosey juggler, acrobat, mime, dancer, harmonica-playing artist whose influence you can see in Charlie's work. Charlie's talk touched on Mac King's character (very funny, with Mac in the audience), lauded Amazing Johnathan as a great writer, and laid such aphorisms on us as "Normal ain't funny." His final message: "Be one of a kind… -ish."
Psychologist Professor Richard Wiseman is a master of "Mind Games." His talk included a frightening photo of Margaret Thatcher if you turned it upside down, the familiar rabbit-duck illusion, a scandalous photo that turned out to depict nothing but a baby pig having lunch (I was reminded of an old Tom Poston joke, "Phallic, hell. Do you know what that looks like?"), a funny video of some fools attempting to fire walk, and Dr. Wiseman's change blindness YouTube video that first went viral and made him an Internet superstar. One of the funniest lines from his subjects: "I figured it out once someone explained it to me."
And a few of the Sessions were — special.
"A Moment With… David Copperfield." Stan closed the first day of General Sessions with an in-depth chat with magic's most successful magician and resort island owner. I should mention that several friends caught David's show before the convention, and they reported it to be the best it has ever been and possibly the best magic show they had ever seen. David touched on dealing with negatives (David relied on surveys from early on, but the Internet makes feedback much more immediate and personal), the evolution of his Flying illusion (it began with Peter Foy who created Mary Martin's flying in Peter Pan), how much he hates being ripped off (the Steve Fearson Laser illusion, for example), the evolving Alien bit in his show (inspired by Ed Sullivan's Topo Gigio), and the Dinosaur in his show. David was friendly, open, and engaged, and I appreciated that he was not only generous with his time and interest but was doing so twice.
"The Carbonaro Effect." If you add magic to Candid Camera and take the magician out of the equation, you can create some very funny reality television moments. This is The Carbonaro Effect, with Michael Carbonaro at the helm, and David Regal and a team of magicians and technicians just out of sight. Michael took us behind the scenes on three of his more hilarious stunts, including the building beetles that manufacture a small Eiffel Tower under a coffee can ("They're from Alaska"), wedding cake figurines that are just a little too real, and an orange that seems to unscrew and to contain candy. "Damn you and your orange," says the mark. This is brilliantly funny material, and it was great fun to be let in on some of it.
"Magic & Music." Composer Edward B. Kessel presented a fascinating talk on how he has composed for magicians in various situations (not to mention for Broadway, pop songs, film scores, television, commercials, and for the Norwegian Cruise Line show The Illusionarium). I am musically illiterate, so technical talk of this ilk is nearly beyond my ken. For the magical situation, Mr. Kessel showed video clips of Justin & Jasmine's The Assistant's Revenge, Jeff Hobson as The Swami, Losander with his Floating Table, and Michael & Melanie Giles' Suspended Animation. He has been working on replacing Dimmare's Gershwin music with his own, but apologized for not having video available. And then — Dimmare, in person! This was one of the best kept secrets of the convention, and Dimmare was fabulous. (Later, someone said he thought Gershwin's music was better. Duh!)
"The Facebook Trick." Can a single magic trick make for an unforgettable convention? You bet, especially if it's more Mission: Impossible mega-stunt than a mere magic dealer item. Thus it was with Jorge Blass's The Facebook Trick, a full-blown social media illusion that he presented on the Monday night stage show. This was a case of the attendees not being the only ones on an adventure. Stan and his crew embraced considerable risk to pull the trick off — twice!
It began along familiar lines. A random spectator was selected from the audience and brought onstage. He was shown a large cardboard box, a gift for later. But first, did he have a Facebook account? He did. An iPad was provided, and the account accessed. (A portable television camera let us see what was going on.) The magician spun the spectator's list of friends, and the spectator tapped one as they passed in a blur. The selected friend turned out to be someone he hadn't seen since his wedding, five years earlier. Back to the box. It was light, very light; so light it floated. And yet inside the box was — the friend from the Facebook account!
Okay, impressive, but we know-it-alls in the audience assumed it must have been a pair of stooges. So wrong. Jorge explained the trick in his Session the next morning. This trick actually happens. It's like David Copperfield's Beach trick, but the guy really goes to the beach. (Copperfield has since bought the American rights to Jorge's trick, and it will be interesting to see how he tweaks it.) Or it's like Luis De Matos' trick in which a random spectator's auto turns up in the lobby.
Jorge's Session talk was titled "Get Your Hands Dirty" and it was about going beyond a mere suitcase act. And he certainly does in this effect, first hacking the registrant's Facebook account, then contacting a promising "friend" and winging him or her to the show location to be stuffed, eventually, into Ali Bongo's Gravity Box. In the MAGIC Live case, Stan had to handle the logistics of fetching and housing two friends (for two shows) at a nearby hotel. There is great room for emotion in this illusion. I used to weep at such television shows as This Is Your Life and Truth or Consequences when they reunited long-parted friends or relatives, and you could see such reactions in the videos that Jorge showed us of the trick being performed in various cities. (Of course, I acknowledge the dangers; as my wife said, "I have Facebook friends I wouldn't want to see pop out of a box.")
"The Card Men." Stan rarely tips who is going to present or perform at MAGIC Live, but this time he did. Norman Beck had not only proposed a public Session with Bill Malone, Steve Forte, and Ron Conley, but somehow pulled it off. It happened. Twice!
Magicians love to make up stories about gamblers and embellish their routines with them. It is extremely rare, however, for any of these stories to be true. In the cases of Mr. Forte and Mr. Conley, they are not only all true, but the gentlemen have an encyclopedic knowledge of cheating moves. Here were the makings of a wonderful Session.
It began with Bill Malone pelting his friends with gags. He's just so fast. And then the technical stuff began, of which there was just so much. There was the wisdom "Two cuts don't make a cut." There was a protection grip. There were sample verbal cues. There were false deals. There were briefs. There were stacking techniques. There were seconds with a long pushoff. There was the first time I heard palming referred to as "breakoffs." There was talk of mucks, and of the time Steve Forte showed Bill Malone fifty different ones. Ron Conley demonstrated a dead cut to an Ace that he attributed to Roger Klause. The two gamblers sat elbow to elbow, and one shot a card to the other invisibly. Bill Malone said that, more than with Marlo and Skinner and others who mentored him, this was a different level of sleight of hand.
I was pleased that Mr. Forte and Mr. Conley were not doing shtick. These were real guys who have played the game and were simply themselves. They seemed to be having a really good time. Who wouldn't, with Bill Malone firing zingers at you? Thank you, Norman Beck. For next year, let me be the first to propose that Bill Malone host Persi Diaconis and Steve Freeman. I'll be there.
Our journey continues, from General Sessions Territory to Focus Sessions Territory. But that means choices, and danger. But wait, Stan said to be curious, to try new things. Dare we?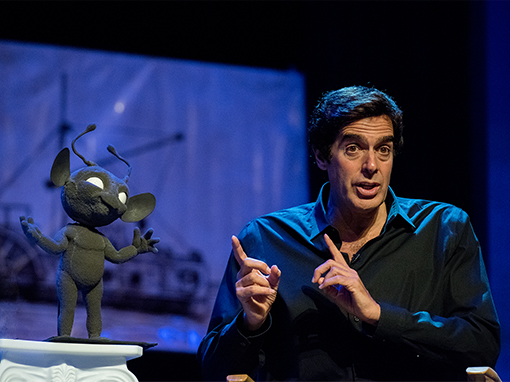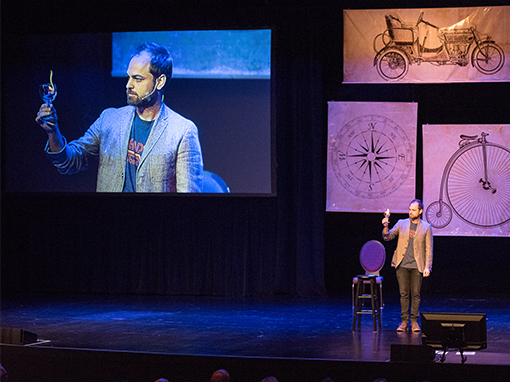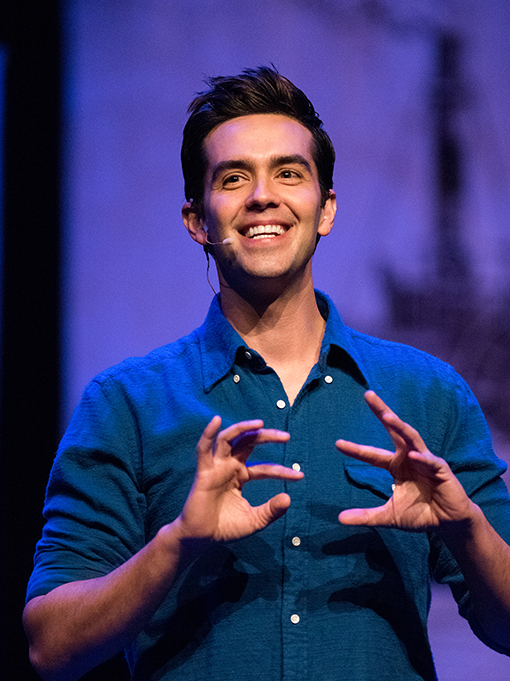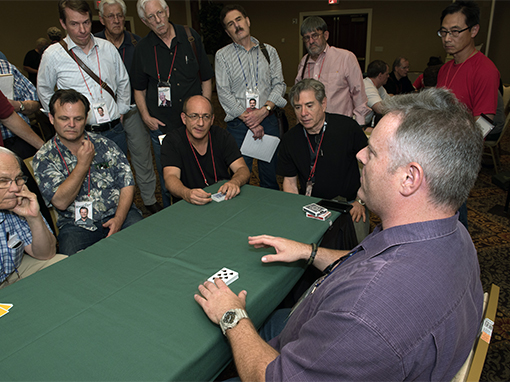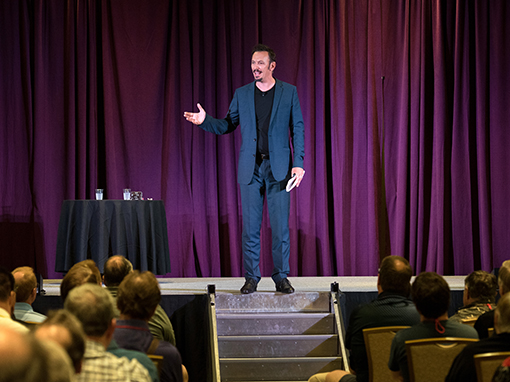 Focus Sessions Territory
Steve Valentine's "Cards to Pocket" Session was wildly popular, and why not? First, it's Steve Valentine. Second, if you learn it, then you have an eight-minute act suitable for close-up or stage and requiring only ten cards. Steve's talk was well researched, beginning with a video of his mentor Dick Turpin performing the classic routine. There were gags old and new, and lovely detail, such as plucking away a bit of pocket lint when executing the top-of-pocket dodge. Of the many versions available, Steve chose the Cy Enfield version for the basis of his routine, with the E.G. Brown version for the last three cards. Ah, back to our libraries.
Ian Rowland brought his "Loving Mentalism" column to life with three routines: a surprise prediction of two countries, a bit of cold reading, and a prediction unique to Starbucks. The Starbucks template is in the notes.
Joel Bauer's "Passion2Profit" talk did not stint on passion, and his talk on how to make money from magic — a lot of money — was one of the most talked about. How many people open a talk with a display of their tax returns? One fellow I spoke with attended twice, just to experience Joel's personality. I passed, long past the desire to make money, but wish I had checked this talk out. In his own talk, Mike Bent mentioned, "We were going to scare you to death — but Joel Bauer already did that."
Mike Caveney's long-running "Classic Correspondence from Egyptian Hall Museum" column in the magazine (and expanded, so far, into two beautiful hardback volumes) is a monthly mix of affection and scholarship. In his "Classic Correspondence Live" talk, Mike talked about and made available for viewing the eclectic artifacts — even a posthumously inked handprint — that go into creating this monthly peek into the past.
Martin Lewis, in his "Making Magic" lecture, taught four effective platform tricks, three of which were completely new. Of those, I particularly enjoyed Vanity Plate (a trick with license plates) and the opener in which Martin produced a steaming cup of coffee. One of the traditions of MAGIC Live is that all the stars attend all the events. In Martin's lecture, Steve Valentine sat behind me and laughed at all of Martin's jokes.
What was "Attack of the Monster Kids" by Mike Bent and Buster Balloon all about? I had assumed it would be about kid shows, with the kids being referred to as "monsters." Not so. Instead, it was an extremely well-researched talk on how monsters have been marketed to kids over the decades via Universal Studios movies, horror-meisters such as Zacherley and Vampira, the song "Monster Mash," movies with special gimmicks such as Emergo, Famous Monsters of Filmland magazine, plastic Aurora models, the R.L. Stine Goosebumps series, Monster High toys, Scooby-Doo, and so on. Amazing factoid: Stephen King's first published words were a letter to Famous Monsters of Filmland. Given my interest in spooky magic, this talk was right up my alley. (I'm curious though: was it cruel of Mr. and Mrs. Balloon to name their son Buster?)
Tony Clark's "The Many Flights of the Paper Balls" drew consistently large crowds, suggesting that many are still fascinated by Slydini's classic of misdirection. Fortunately, all of us enjoyed a video of the master performing the routine during one of the evening events.
"There's Always a Beginning" sounded to me like a psychological pep talk, and I wasn't sure who Joseph Barry was. I arrived too late to a packed house, where I quickly learned that the title referred to the fact that Mr. Barry does improvisational card magic — there's a beginning, but rarely the same ending — and that he does it exceedingly well. His work is often favorably compared to that of Dani DaOrtiz. He closed without explaining his Out of This World routine (£20 on his website, but sold out). Of all the presenters on all the programs, it is Joseph Barry that I will be following most carefully in the days ahead. (Complete details of four tricks are in the Vault notes and five more are in the September 2015 issue of MAGIC Magazine.)
Although I personally attended and enjoyed several of the talks above and heard wonderful reports on those I missed, the Session that struck me as "lights out" special was "Close-up Clinic." This tag-team teaching exercise could have lasted an entire day, or could have been sold as a full-week Jeff McBride Master Class. Adventurers could select and move about at will from seven stations: Jason England on false shuffles and deals, R. Paul Wilson on deck switches, Chris Korn on coins, Tom Frank on Cups & Balls, Allan Ackerman on palming, Steve Reynolds on the Zarrow shuffle, and Jared Kopf on anything else. It's like picking from your seven favorite desserts! I initially sat at Jason's station and couldn't leave, absorbing info on one-hand seconds, bottom deal exercises, a pull-through shuffle with up the ladder cut, a very fair Triumph return, a reverse breather, up the ladder vs. real cuts, why the Triumph shuffle won't fly in a real game, the Vernon alignment for a push-through shuffle, and so on. Near the end, I made it to Steve Reynolds' station just in time to realize that he has some valuable new work on the Zarrow. The hour flew by!
Darkness descends on Adventureland as we move away from the daytime Sessions to the evening shows and ticketed events. Prepare yourself for…
Show Island
The "Magic Cabaret" featured the closest thing we had this year to a one-man show — specifically, a two-man show by David & Leeman, directed by Jon Armstrong. From Los Angeles, with tons of television exposure, David & Leeman are a fast-talking duo in the mold of Britain's Barry & Stuart or Morgan & West, often finishing each other's sentences as they breeze through their routines. Among other endeavors, I greatly enjoyed their ring vanish to ball of wool (or was it?), teaching a spectator to do the Silk to Egg, the Banachek Psychic Touch routine, Needle Swallowing with only one needle, walking barefoot on glass, and reliance on their motto: "Lying makes things better."
Four years ago, MAGIC Live featured Juan Esteban Varela's "From the Dark," a magic show for the blind. This year's answer to that was Richard Wiseman's Experimental, an audience interactive psych experiment pitting the red side (where I saw Chad Long sitting with Mac King) against the green side. It was a revealing thirty minutes as we clapped to "Zorba," experienced surprise (a balloon popped), toyed with test materials in an envelope (cards for a Woody Aragon card trick, a napkin for creating a rose, a laser pen for onscreen mischief), watched a movie, felt empathy for a circle being pestered by a triangle, and participated in other such silliness. Hey, did we win? Was that even the point? This experience and Professor Wiseman's lecture were part of everyone's convention highlights.
MAGIC Live is after all a magic convention, and two full stage shows with eight acts each provided a generous dose of magical evening entertainment. Emcee Jorge Blass opened the first show with card manipulation that climaxed with a lightning costume change with no cover. He would return later in the show with his Facebook trick, described earlier, in which a randomly chosen friend of a randomly chosen spectator pops out of a floating cardboard box. Really!
Voronin, the screwball Russian whom I've previously enjoyed in Teatro Zinzanni with Joan Baez, performed his classic act, pompously tossing confetti as life falls apart about him. His self-levitation is a mystery until you look to the side and see a stagehand comically pulling on a rope. Oops.
Next up, Mike Chao from Taiwan with his manipulation act with green (both sides) playing cards. (Are there games you can play with these?) He has a lovely moment where a green card turns into a green ball, which he bounces off the floor and it turns back into a green card upon catching it.
The closing illusion act was actually three illusion acts, that of Nathan Burton, Mike Michaels, and Greg Gleason. Nathan produced four girls simultaneously in a glass case and then transported one of them from the top to the bottom of a very slick Ladder Illusion. Mike introduced a new Trip to the Moon illusion whose concept I adored. A girl from the audience was put into a space suit and she climbed aboard a rocket ship that appeared to be a ten-cent grocery store ride. It took off and floated about the stage against a black background. Elsewhere on the stage was a moon-shaped container, and you saw a space ship orbiting it. The girl eventually burst from its interior, having made it to the moon. On the performance I saw, there were minor technical glitches — the booth played Mike's voicemail instead of his music, and friends complained that the lighting where they sat revealed the method — but these things can be worked out. Greg Gleason followed with the production of a helicopter that spun out over part of the audience. I assumed, from previous MAGIC Live experiences, that the chopper was a Mike Michaels creation. I didn't particularly like the method, but I love these props that come in brightly colored metals and look as if they were born in a Transformers movie.
But first, before the illusions — "Why are the juggler and the comic always the best part of a magic show?" a friend asked. Well, that's easy to answer if the juggler is Charlie Frye & Company, and the comic is Noel Britten. I've previously described Charlie's act as "a tightly choreographed whirlwind of juggling, balancing, mime, comedy, and magic," and so it was, with his wife Sherry blithely filing her nails. The magic included Charlie's "Lord of the Rings" routine with hula hoop–sized Linking Rings and a deceptive Zombie routine with a bowling ball. Charlie registered two standing ovations and was the first name on anyone's lips when asked "What have you liked so far?" Noel, who performs his Bizarre Bath walking tour in England, opened with solo comedy and then hauled a couple of kids onstage for his Houdini underwater escape (he tries to escape his chains while dunking his head in a bucket of water). His work with the kids, as they are trying to wrestle him into a bathing cap and goggles, is brilliant and makes it hard to catch one's breath from so much laughing. Altogether a masterful combination of physical and verbal comedy that earned another standing ovation and his name as the second on anyone's lips when asked the previously mentioned question.
Two nights later, a second octet of performers rocked the room. The first full act was that of France's Xavier Mortimer, who interacted gymnastically with a circle of light in his first number, and in the second levitated himself while jumping rope. That, of course, is impossible.
Den Den from Japan, who was the 2014 SAM first-place winner, executed his slow, deliberate dove act that uses lovely paper birds instead of doves, a substitution that allows for more magical instances and avoids all the downsides of real birds.
Kalin & Jinger brought their entire Carnival of Wonders to the party four years ago, and it was a thrill to see them back with a new illusion and a new twist on an old one. In the first, Jinger was produced from a vertical chamber that was erected, light panel by light panel, after the base had been thoroughly surrounded by audience members. She appeared in a particularly fetching ensemble of black tights, a bustier, and a black top hat, like she stepped out of a steampunk adventure. In the second illusion, Jinger sawed a man in twain while Mark sawed a woman, then their bottom halves were switched before the restoration, lending new meaning to transgender.
What if Alice Cooper or Marilyn Manson did a dove act? That's Dan Sperry, a malevolent goth who performs beautiful magic. When I was much, much younger, I wanted to be that character but hadn't the look, talent, or tolerance for pets; still, I'm glad someone became Dan Sperry. His dark energy played well at MAGIC Live, and I especially liked the cloud of powder that now erupts when Dan stomps a balloon, and a dove flies out.
The seventeen-year-old Ty Tojo, billed as being from Japan, filled the novelty spot as he juggled white balls — a lot of white balls, a cascade of white balls, a blur of white balls.
Hun Lee of South Korea knows his act forward and backward, and indeed that's how he does it. At a point in his act, everything goes into reverse, including a table that had fallen over earlier.
But as on the first stage show, two acts dominated the after-show talk. I first saw emcee Justin Willman, who describes himself as "a Jewish Jonas brother," at a local comedy club last November and became an instant fan. (I've also watched more episodes of Cupcake Wars than is seemly for a grown man.) He's smart, funny, hip. My hope was that he would perform his strongest items at the convention, and he did. He first predicts the name behind a spectator's first kiss, then "reveals" that the method is a wireless Bluetooth printer inside a box. Then all your theories go to heck as he crumples the printer into a paper ball. The second was a kickass bit of mentalism involving a prediction that proves Justin is what John Bannon calls a "master of space and time." "Live in the moment" is Justin's theme, and he does.
The other act was The Evasons, magic's finest two-person mental act. When I first reviewed the Evasons after MAGIC Live III (2007), I said they were "Sexy, exciting, and utterly baffling, one of the closest things I've seen to real magic." They still are, as Tessa reveals names, objects, wife's names, middle names, brands of cigarettes and the quantity in the pack, birth dates, badge info, the serial numbers on bills, and so on. She makes it seem effortless, and of course she and Jeff departed to a standing ovation.
I'm saving the best evening bit for last, the event most will cite as the single highlight of the convention, Documentary Live: Stars of Magic. Talk about high concept! Michael Weber hosted and laid out the history of the Stars of Magic book, which began life as a series of individual lessons. Michael shared the physical history of the book as well as its content history, with samples of what it looked like during each era. The concept was that magic's best close-up artists would perform material from the book exactly as described. Under these conditions, Johnny Thompson performed Scarne's Silver & Copper Trick and Vernon's Kangaroo Coins. Eric Mead performed Carlyle's Homing Card and Leipzig's Pride. David Ben performed Ross Bertram coin material and Vernon's Impromptu Cups & Balls. For the session I attended, I was privileged to sit at the table with the performers, and it amused me that David had the cups labeled A, B, and C, as they are in the book ("for practice purposes"). He revealed this at the end of the trick. Julie Eng performed S. Leo Horowitz's Chink a Chink with sugar cubes. R. Paul Wilson performed Dr. Jacob Daley's The Cavorting Aces. Paul Vigil performed Bert Allerton's Bamboozle and Malini's Card Stabbing. Slydini himself, via video, performed Flight of the Paper Balls. We then closed our eyes to await a special guest, eventually hearing the familiar cadences of the Professor. It was Jared Kopf, in full Dai Vernon makeup, to close with Triumph. Jared's impersonation was so spot on that it discombobulated me, and I darn near forgot what card I chose. Thanks be to my personal gods of adventure, it was the Five of Hearts. (One more surprise: a parting gift as we exited the theater was a bookmark featuring drawings of the "stars" who had just performed.)
Adventurers are a gregarious lot, camaraderie forced upon us as we navigate the turbulent waters of magic and mystery. Say hello to old friends and new as we explore…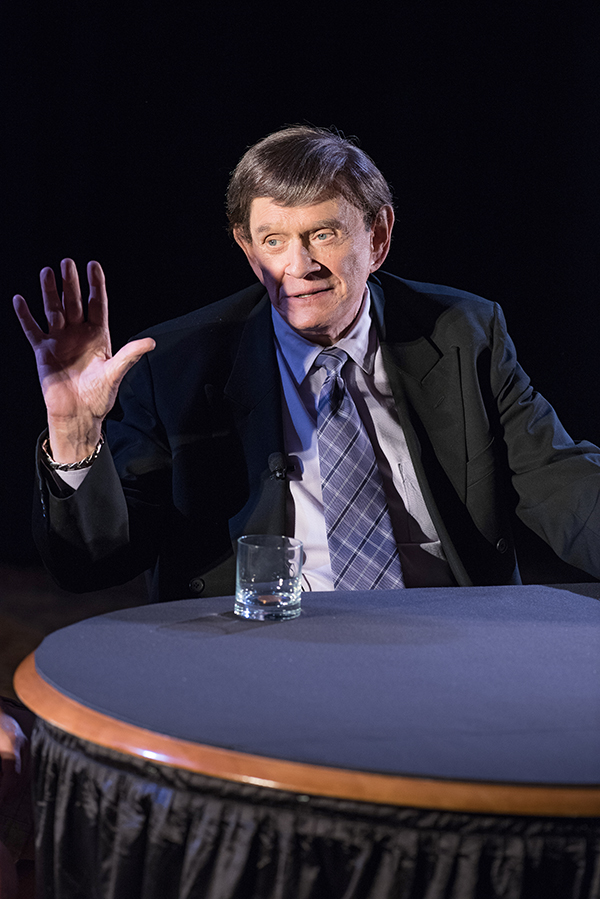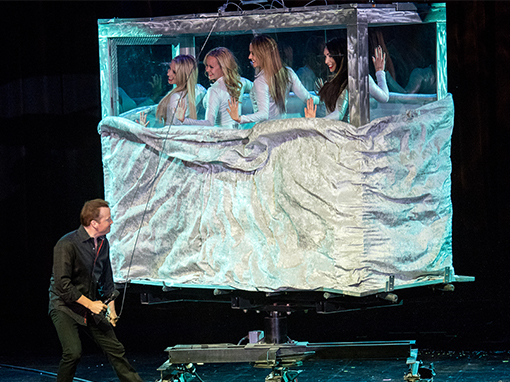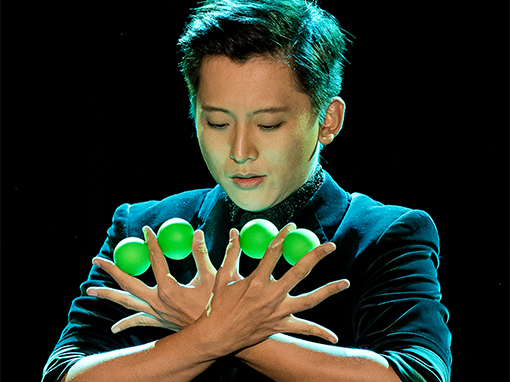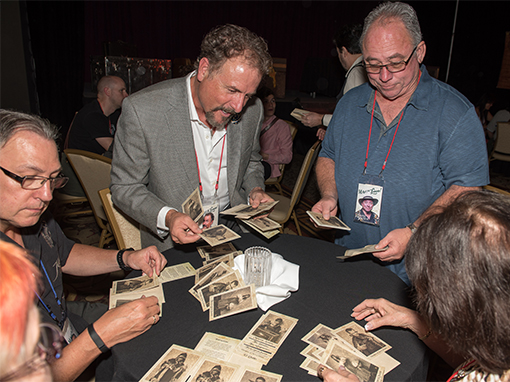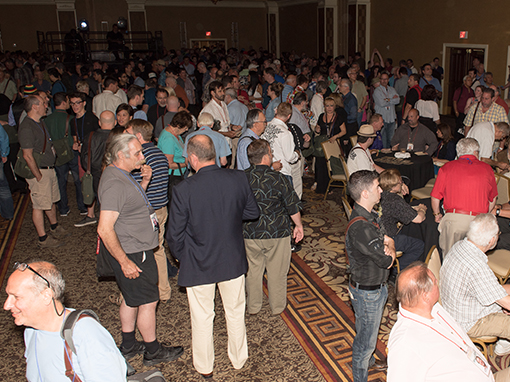 Community
Since the first "never to be repeated" MAGIC Live, registrants have constituted a who's who of magic, and you tend to run into famous and not-so-famous friends here that you don't encounter elsewhere.
Among those not on hand as presenters, performers, or dealers (and all of those were ubiquitous), it was nice to notice and occasionally interact with Chad Long, Paul Harris, Marvyn Roy, Joshua Jay, Harry Monti, Jade, Mark Setteducati, Mac King, Lance Burton, Amazing Johnathan, Chris Kenner, Steve Bedwell, Jamy Ian Swiss, David Kaye, Randy Wakeman, Simon and Ginny Aronson, John Bannon, Tina Lenert, Tom Gagnon, Tom Mullica, Bill Kalush, Michael Ammar, David Sandy, Gene Anderson, Gene Matsuura, Irene Larsen, and Milt and Arlene Larsen, among many more.
Sessions sprang up everywhere, and it is notable that this convention attracts and embraces all ages. Each of us had friends at every turn, and I hope my personal encounters are indicative of the exchanges others experienced. Bob Ingalls showed me an amazing Nut Off Bolt (battery operated!) that he found on the Internet for four bucks. Geno Munari shared a copy of his recently published Combined Treatise on Advantage Card Playing and Draw Poker (F. R. Riter). Milt Larsen gave me a copy of his music CD Smash Flops! Early Magic Castle ace Marc McGuire showed me two excellent variations to Vernon's Pick Off Pip and Slap Aces. (I personally performed only one card trick, but a good one: Deepest Sympathy from the latest Jim Steinmeyer book.)
One special ongoing session bears mention. As regulars at Ohio conventions know, master card guy and illustrator Tom Gagnon is a session magnet. He tends to find the center of gravity of a convention and holds court there throughout the event, sharing details on his Spread Control and myriad other creations to pilgrims who seek him out. I found him happy to be equally sought out at this convention, by Japanese as well as US magi, and to be recipient of a dinner invitation with Mr. Forte and Mr. Conley. For many, Tom Gagnon was an unexpected bonus to the convention.
So much for the unplanned festivities. All was trending toward the Farewell Party and a possible chance at $100,000.
Easily the largest illusion of the week, Stan's crew transformed the Grand Bazaar with all that dealer space to an open party space in just three hours, with a full pasta bar set up for late evening dining and an orchestra for dancing. It was the final chance to mix and mingle with magicians you see only every two to three years.
Remember those Conjurors Nine who were on the trading cards for the opening night Bon Voyage party? They turned up in the flesh as well, if flesh is the right word for the long departed. Here were Dark Sorcerer, Great Bluedini, The White Witch, The Gypsy Queen, El Diablo, The Bandito, Vampire of New Orleans, The Ringmaster, and Mistress Avalon, in full afterlife color, strolling among us, posing for photos, assisting in completing those card sets. Rumor had it that the complete sets would come in handy later, along with the compass and laser pen, for use in a surprise magic trick. Intriguing!
But as the night approached the witching hour, there was a more pressing game to be played. Someone was about to play for huge stakes. It wasn't me (I had a doppelganger from Dallas there with the same first and last name, interesting if "our" name had been drawn), but the game was fun to watch anyway. The backdrop of one wall bore large letters spelling out 2015 MAGIC LIVE: THE ADVENTURE $100,000 QUEST! Behind each character was a dollar value: $500, $1,000, $5,000, or $100,000. The contestant began selecting cards, and the first value for which he had five matches, he won. His eventual prize was $1,000.
After acknowledging the winner, Stan had "one more thing," rearranging and replacing the cards to spell out
MAGIC MAGAZINE'S
25TH ANNIVERSARY
AUGUST 14–17 2016
MAGIC Live would return in only one year! It was the final and perhaps the most welcome surprise of the week.
Our adventure comes to an end and will soon be naught but a memory, albeit a bright one. We've come through it changed, strengthened, enriched. We've seen old magic resurrected, new magic born. We've witnessed sleight-of-hand artists and illusionists, comics and composers, inventors and historians, jugglers and manipulators, TV personalities and media mavens, pundits and psychologists, mechanics and mindreaders. All that is left is the summing up, the assessment. How did we do?
Applause
There was no place else to mention it, but I should note that all the little things seemed to happen invisibly, just as they should have. The registration was the fastest and most fun it has ever been. Events started on time and amazingly stopped on time. Audio and video worked. The food was great. Participants kept the secrets just as Stan asked (even though I tried to wheedle the secrets out of them).
In summing up MAGIC Live V, I concocted "The Fab Five," a list of the five elements that defined the convention, that set it apart, that made it the unconventional convention. I find that harder this year. For me, the top event was the session with Bill Malone, Steve Forte, and Ron Conley. Their very demeanors were a treat to witness. This was work, as Bill Malone said, of "a different level."
As to the rest, I can't limit it to five. My favorite bits, in no particular order, were: The Card Men, the evocative "adventure" graphics, the Stars of Magic, the world-class audiences, the cavernous dealer bazaar, David Copperfield, the Facebook trick, The Carbonaro Effect, the Close-up Clinic, Joseph Barry's card tricks, Charlie Frye & Company, Noel Britten, Justin Willman, the Evasons, Dimmare, and on and on.
I realize that the 1,599 other registrants would compose a different list of favorites, and they would be correct, too. All convention experiences are ultimately personal. As for me, it was great fun. That sound you hear is me clapping. And I'm standing.
Steve Bryant is a magician and author based in Bloomington, Indiana. He can be found online as the proprietor of Little Egypt Magic.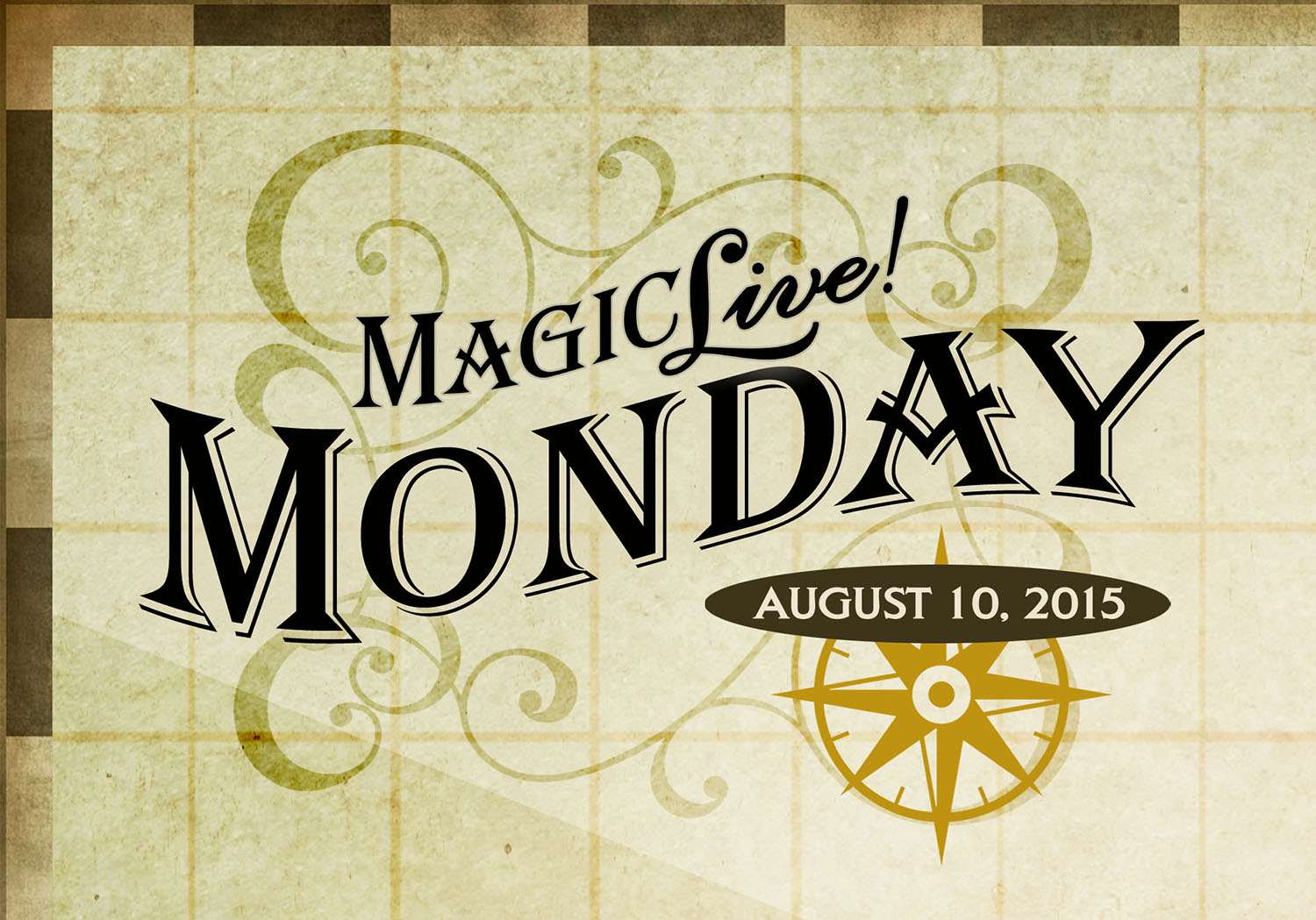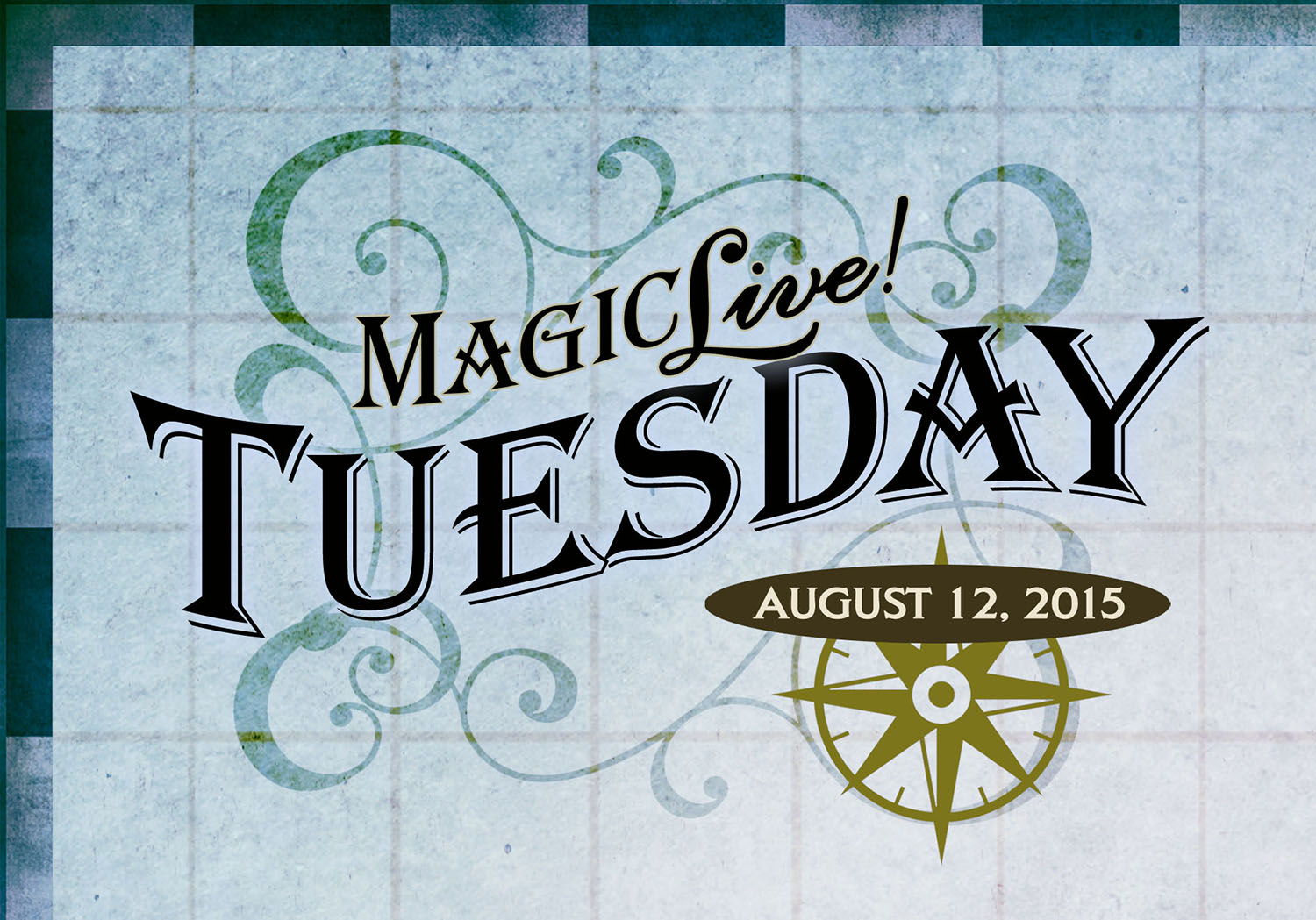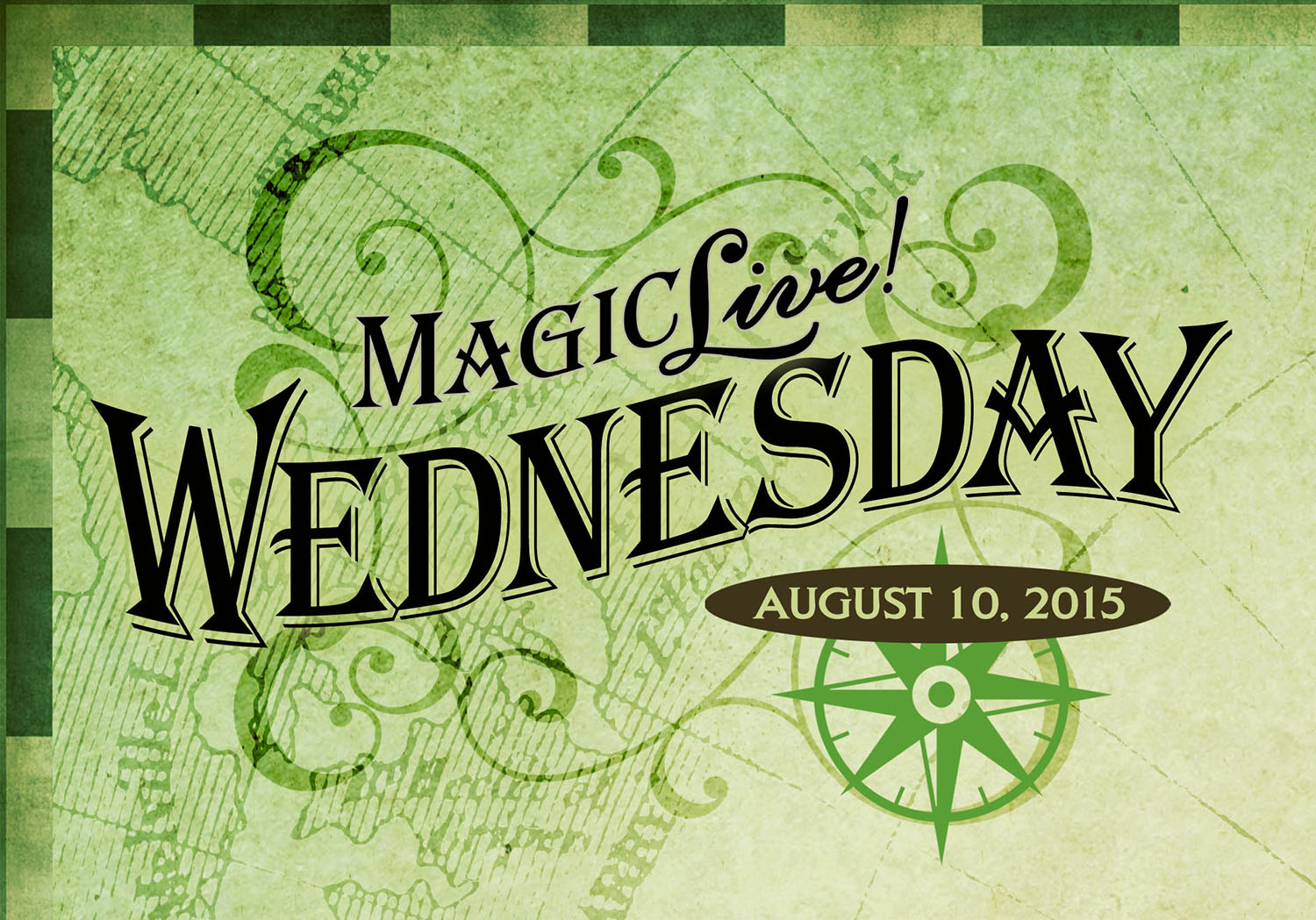 Ready to join us next year?
The next MAGIC Live is August 14-17, 2016 in Las Vegas, Nevada.