Friends with Benefits
Journeying Through the Desert to MAGIC Live!
Words by Shawn McMaster
Photos by David Linsell
The following review appeared in the October 2013 issue of MAGIC Magazine.
It is somewhere around Barstow, on the edge of the desert, when I realize I am going to miss the first episode of the final, final season of Breaking Bad, and all because of a magic convention in Las Vegas.
I have a love-hate relationship with Vegas. The overindulgent lifestyle that the town offers and condones is both intoxicating and off-putting simultaneously. The adrenaline kicks in when you crest that hill and begin to see the buildings in the distance. Your mind races with all the possibilities of the decadence and hedonism that lies in wait for you, but by the end of your stay, as you're driving out on that long stretch of highway, the desert mocks you and serves as a 300-mile-long reminder of where that decadence and hedonism led you. And if decadence and hedonism isn't your game, then it questions your choices.
MAGIC Live! That's why I am rolling into Sin City this day, my iPod offering a continuous and eclectic soundtrack to the road trip: Queen, the Dead, Jeff Hershey & The Heartbeats. None of the songs lyrics offer me any kind of reassurance that the device knows what I have agreed to do: attend one of the magic industry's biggest gatherings, an event put on by its biggest trade journal, solely on the promise from its editor, Stan Allen, that the event will be memorable. The last four-and-a-half seasons of Breaking Bad have been memorable. Can Stan and his team compete? The music drones on, offering only minute and nondescript relief from the thoughts racing through my head and the tediousness of my current surroundings.
You can tell when you're within sixty miles or so of Las Vegas because of the frequency of the billboards that begin to appear, all of them advertising the shows and attractions that, if the city has its way with you, you can't afford to miss. They suddenly materialize like giant index fingers beckoning you:
"Loose Slots!"
"Cheap Steak Dinners and Inexpensive Rooms!"
"Gallagher at the Tropicana!"
(First of all, is Gallagher still around? Secondly, he's playing the Tropicana? Seriously?)
Two other billboards, only a few miles apart, catch my eye. One, advertising David Copperfield's show at the MGM, has a quote by Oprah Winfrey next to David's ten-foot face: "The greatest illusionist of our time." The second billboard, displaying an image of Criss Angel sitting on a motorcycle and posing in a way that can only be described as "early David Copperfield," has a quote from Jay Leno proclaiming that Criss is "The greatest illusionist in the world." I guess it all boils down to which retired talk-show host you can trust.
The buildings of Las Vegas begin popping up on the horizon. As if on cue to show me that it does, indeed, secretly understand my relationship with the city, my iPod begins to play "She Drives Me Crazy" by the Fine Young Cannibals.
Thirty minutes later, I am opening up my hotel room door with the custom-made MAGIC Live door key. I drop my bags and open the curtains. As the daylight from the blistering desert sun spills into the room, I notice that I have a poolside view. Thank you, Stan. I hang my clothes and get settled in the room. Damn! I left the bag with the Maker's Mark in the car. When you cram 1,500 magicians into the same hotel — especially in the middle of the desert where there's no escape — things can get a little sketchy. I better run back to the car!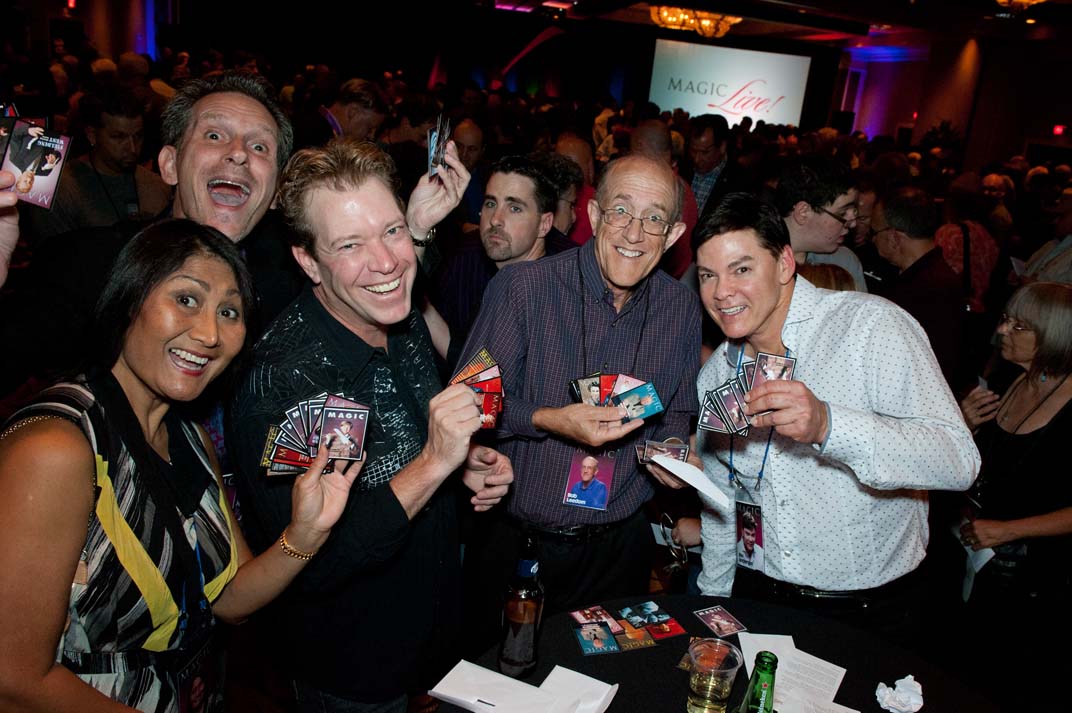 Welcome Friends
Every MAGIC Live starts off with a party to welcome all the attendees who have successfully made it to The Orleans Hotel before all the "official" talks, breakout sessions, and other surprises begin the following day. My time leading up to this included checking in at the convention registration desk, getting my picture taken for the convention badges that everyone wears, and a little Maker's Mark for good measure. The convention badges are made to look like a MAGIC Magazine cover featuring your photo. Mine turned out surprisingly acceptable. Rarely is there a decent photo taken of me. In past years when I've attended this convention, the only thing missing from the photo was bolts in either side of my neck. At least this year I won't walk around pretending that my convention badge hanging from the lanyard has "accidentally" flipped around.
The overall theme for this year's convention is "Friends," and the party helps to drive that point home by offering attendees a set of MAGIC Magazine cover trading cards. Each participant is given a stack of cards that are all identical, and instructions to mill about the room and trade cards until you have completed a set of cards that are all different — the hope being that you will strike up conversation with strangers during this process. An added twist is that the covers, each depicting an individual magician, can be paired off with another who is a friend of that magician. All of the magicians featured in the set are supposed to be on hand to sign the cards, but many are hard to find, and Topas is conspicuously absent. He's probably up in his room watching Breaking Bad, the bastard. The party also serves as the introduction to the opening of the dealer room, often in a "Welcome to Fantasy Island" fashion. This year, if the introduction is less grandiose, the dealers' room is twice as grand. The offerings here instantly transport you back to your first visit to a magic shop and all the emotions that went along with the experience.
Among other goings-on in the MAGIC Live dealer room, some new products and books will make their debuts. Of the forty pallets of stuff that it takes to put on this thaumaturgical festival, half of it is merchandise and display material for the dealers. Reports from this year's dealer room indicate that opening-night business was frantic and brisk, which it always seems to be, but this year maybe even more so — a fact that was most likely fueled by the presence of MAGIC Live associate producer Rory Johnston giving away raffle prizes throughout the night. For every twenty dollars you spent, your name was thrown into the raffle, and incredible prize packages were given away to the lucky few whose names were drawn, each of whom got to bring a friend onstage to receive a prize, as well.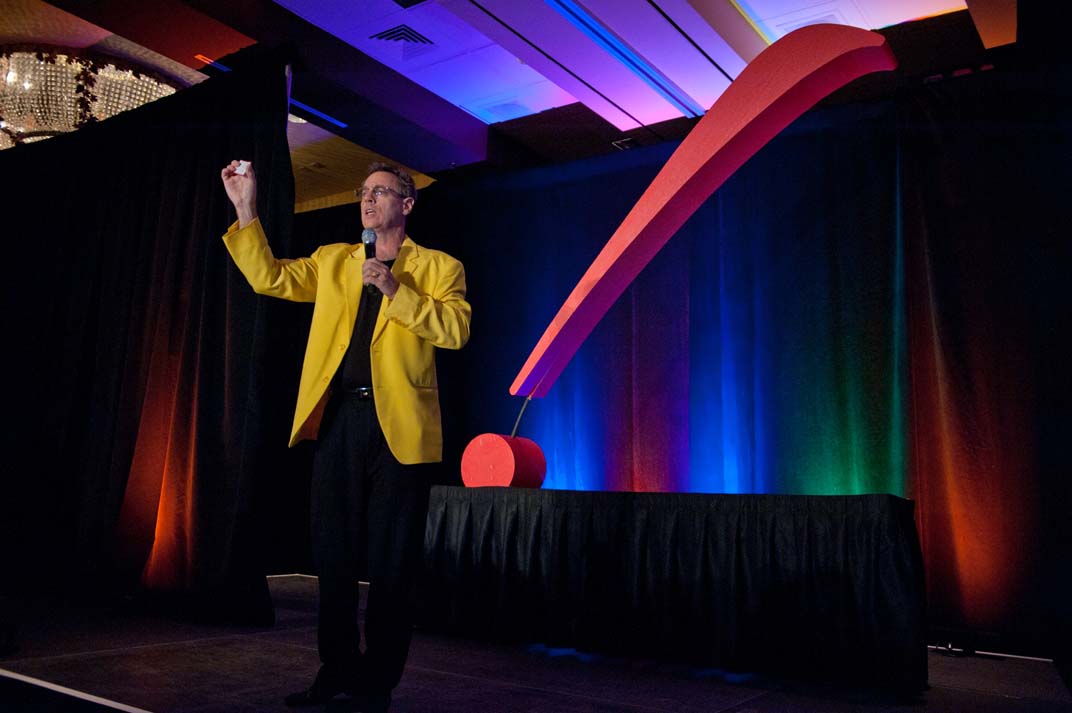 And So It Begins
The first day of a magic convention always fills me with a combination of dread and anticipation. The anticipation makes sense to me. The dread never does, but then I gaze at the itinerary for the next three days, and all of the events, talks, and shows that I will be expected to attend, and my mind begins to whirl. Add to that the fact that many colleagues and friends whom I don't get to see very often are also attending the convention, so I'll want to arrange to have lunch, dinner, or drinks with every one of them, and it all becomes a bit overwhelming. Silly, I know. But that overwhelmed feeling always morphs into excitement as the convention gets rolling.
Daily events at MAGIC Live are broken up into General Sessions and Focus Sessions. Half of the registrants attend the General Session in the morning while the other half attend the Focus Sessions. After lunch, the halves switch. I have been assigned the morning General Sessions and the afternoon Focus Sessions. Great! I have friends who are assigned similarly. As we all file into The Orleans Showroom for the first morning Session, I find seats next to them: Jonathan Levit and "Mad" Tad Nyland. I am already amazed — amazed that Levit is even sitting in the theater, having been a victim of food poisoning two nights before after a dinner of shepherd's pie at Gordon Ramsay's restaurant in the MGM.
The General sessions are a mélange of magical knowledge. Magic history, marketing, performances, and justification are all a part of the offering.
Who but Gene Anderson, the host of this morning's festivities, is qualified to give a talk on the history of the classic Torn & Restored Newspaper effect? He does so in an interesting and informative dissertation, tracing the trick's beginnings back to a German magician named Cortini (actually, Paul Korth) who worked the Keith vaudeville circuit. Anderson introduces Jack Goldfinger to perform his lively version of the trick. Goldfinger, being the current entertainment director at the Magic Castle, doesn't perform as often as he used to and it's nice to see him onstage again.
Following this, Michael Carbonaro is introduced. Those who brave the Leno version of The Tonight Show recognize Carbonaro as the Magic Clerk, a reoccurring character who appears in prerecorded segments that show him creating magic behind the counter of a convenience store. In true Allen Funt style, hidden cameras capture the astonished reactions of real customers as they witness what is happening before them and oftentimes try to convince Michael of what just took place. Through the use of video clips of the segments, Michael delivers insight as to why the pieces work as well as they do. Carbonaro and his creative team have removed the magician from each scenario. "By removing the magician from the equation," Michael explains, "the spectator is left to reason for themselves how this impossible moment is actually occurring in real life." Carbonaro says, bluntly yet charmingly, "The wonderful thing I found out is that people will believe in some crazy shit."
Indeed. Isn't that why we all got involved in magic in the first place? That's why we all drove through the desert and braved the smoke-filled casino to sit in this room together for three days — because we share the common interest of making people believe in crazy shit. We all have our own individual ways and styles of going about that task, and these conventions allow us to discuss and share these styles and techniques with friends and like-minded individuals. That overwhelmed feeling I had when I arrived at the hotel is already evolving into excitement, and we are only two speakers into the first day.
Next, Mark Kornhauser muses about the first tricks we ever learned and performed. The like-mindedness continues as John Armato gives a talk about marketing in which he discourages the use of clip-art bunnies in our promo materials and, in so doing, most likely alienates half of the people sitting in the room. And the charm is carried over into the final presentation of the day, when Tina Lenert discusses how her Mopman act came into existence and then performs it for the audience. While there aren't many tricks in the act, the overall experience is one of pure magic.
The first morning's Session comes to a close with a memoriam. Images of magic luminaries that we have lost since the last MAGIC Live are projected onto the large video screen there in the theater. Some would complain that this is a downer after such an uplifting presentation as Tina's. So, where do you place an obituary reel? Paying tribute to these past performers should be done, but isn't it always going to be a downer?

Lunchtime
I am sitting in a TGI Fridays, selected because of Levit's still very prevalent fear of any kind of meat after his recent dining experience, and my head is swimming with a number of thoughts, not least of which is the realization that I'm sitting at a table with some talented individuals, many of whom I am lucky enough to call friends. In addition to "Mad" Tad and Levit, I am lunching and discussing the morning activities with Dave Cox, Bruce Gold, and Sandy Marshall. Sandy recounts a fabulous story involving his dad, Jay, and the night that Jay was performing Lefty and a fly flew into the spotlight, and Dave Cox spontaneously creates a very funny routine right there at the table, involving a set of rubber bowling pins that he just acquired in the dealer room. We're all in stitches.
By the time I walk out of the restaurant with my friends, on our way to the afternoon Focus Sessions, my irrational dread has completed its transformation to excitement and maybe even gratitude.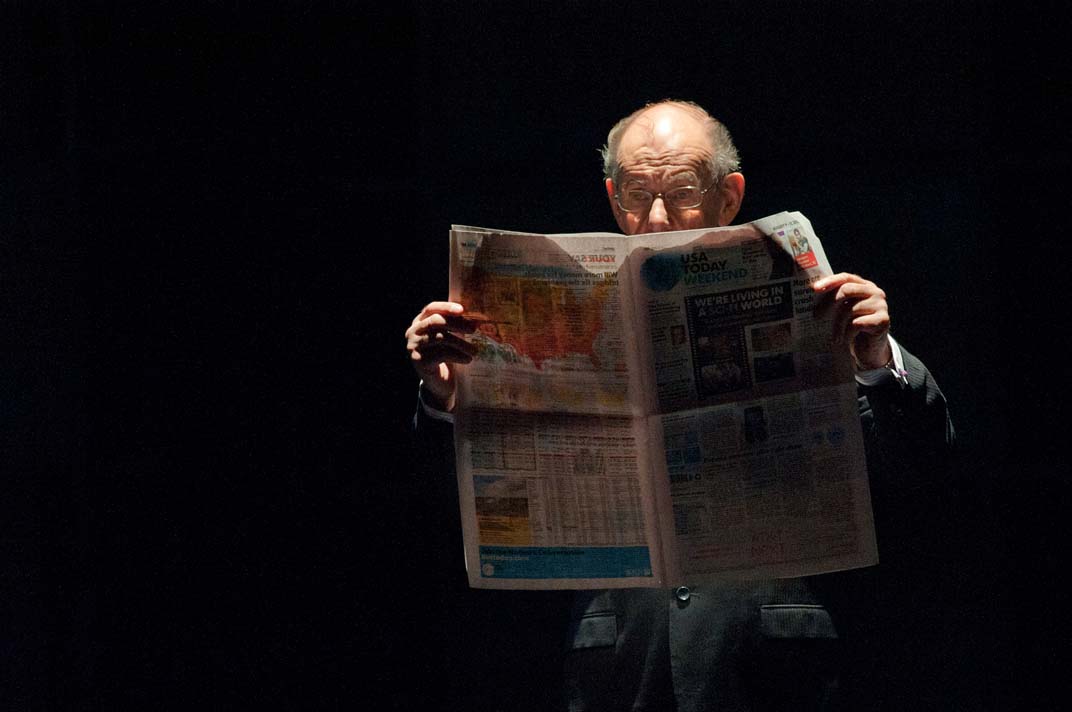 Suddenly It's Tuesday Morning
There are experiments in sleep deprivation that take place at a magic convention that would have made Marie de Manacéine proud. Rather than puppies on never-ending walks to keep them awake for the sake of science, it's nerds of all ages performing never-ending card tricks for the sake of self-gratification and praise.
I'm exhausted.
My thoughts run back to how Monday ended, and all the activity it entailed. The Focus Sessions yesterday afternoon included Mark Setteducati interviewing Lubor Fiedler, inventor of the Gozinta Boxes, countless Tenyo effects, and the Dental Dam trick. He invented the Dental Dam trick, people! Larry Wilmore and David Regal, both friends and both magicians who write comedy for television, discussed writing in magic. And Mike Bent gave a talk on how to make your family and kid shows more effective.
After another visit to TGI Fridays for dinner — it's inside The Orleans, so it's convenient — and then it was off to the evening show, DeMystified, a "live documentary" about the legendary Long Beach Mystics. This show reunited the group, and the resulting performances ran the gamut from glitchy to inspired. High points included Mike Caveney's wonderful, nail-biting juggling stunt in which he balanced a cup of coffee on the bottom of a wooden ring and then flipped that ring into the air and in all directions without spilling a drop; Armando Lucero and his brilliant coin work; and juggler David Deeble, who has traveled the world with his wit and juggling. Deeble stole the show. This "live documentary," written by Caveney and produced by Bill Smith, also featured James Hamilton (as Alexander Herrmann), Victor & Diamond (whose act suffered from bad lighting during the first couple of minutes), Kalin & Jinger, Kevin James, Randy Pryor, Dana Daniels, Michael Weber, Les Arnold & Dazzle and, of course, Stan Allen. It is amazing that all of this talent came out of one junior magic club in Southern California.
A close-up show titled Close-up Experience rounded out the evening with a lineup of performers that would make Simon Cowell's head explode, like in that scene from Scanners, from being faced with so much truetalent in one sitting. Based on different close-up venues from around the world, video segments, produced by Jon Armstrong and narrated by Neil Patrick Harris, introduced:
Johan Ståhl from Sweden. Inspired.
Simon Coronel from Australia. Brilliant.
Denis Behr from Germany. Endearing.
Steve Valentine from the US, making his first appearance at a magic convention since the early 1990s. Funny.
Yann Frisch, FISM Grand Prix winner, from France. Inspired, brilliant, endearing, and funny.
Magic talk and other activities ran late into the night, which is why I'm now standing bleary-eyed in my shorts at 8 a.m., having had less than five hours of sleep, attempting to prepare myself for the day ahead.
By the time I am finally walking across the casino floor, I notice that the line at the coffee counter is much too long. If I wait in line, I'll miss the beginning of the morning sessions. Damn! Skipping the coffee, I stumble into a seat in the main showroom and wait for today's sessions to "wow" me.
"Ladies and gentlemen," the voice announces as the lights dim, "please welcome your host for the morning — Justin Flom." Uh-oh. This might be the beginning of the end. I am definitely not going to be able to take Justin Flom without coffee. The guy is way too smiley for my current lethargic state. He has been a guest on Ellen twice in the last six months, has been viewed on YouTube five million times, has headlined in his own show in Branson, and he's only 27 years old. His talk? What else: riding a viral video to television.
Flom goes on to do a competent job of hosting the morning. Guest speakers offer a wide variety of topics, ranging from the historical to the theoretical to the inspirational. Canadian magician Bill Abbott delivers his study on the history of the Invisible Deck, and "Paynefully Obvious" columnist Master Payne gives a cynical yet entertaining talk on how magic as a performance art can offer deeper meaning as well as entertainment.
If the personifications of "deeper meaning in magic" exist, they are introduced later in this session. Justin introduces Kevin Spencer. My first thought is: Great, a box-pusher —and, if memory serves, a slightly arrogant one at that. But Kevin quickly puts such thoughts to rest. His humbleness comes through as he recounts for everyone his life-changing automobile accident and the rehabilitation that followed. The accident left him with a brain and spinal injury, and yet he is here now, telling us about it. Had he never mentioned it, no one would have been aware of the hell this man went through, and the rehabilitation process that made it possible for him to make his appearance on this stage. Spencer explains how the rehabilitation awakened in him a need to help others, and how he formed his Healing of Magic organization, which uses magic to change the lives of not only people with brain injuries, but also children and young adults with autism. Spencer shares case histories from his organization's work, accompanied by a video clip of one of their patients performing some magic. Then, Kevin thanks the audience for their attention and begins to exit stage left. As he takes the first few steps, the audience rises to their feet, taking Kevin Spencer by surprise. "Deeper meaning in magic," indeed. His bows to the standing ovation are gracious and heartfelt.
As if the two-by-four of emotion hasn't been splintered enough after hitting all of us in the theater over the head with Kevin Spencer's appearance, Jeff McBride, acting as interviewer, introduces his friend Wayne Dobson. Dobson became a professional magician at age 21 and went on to become one of the UK's top performers, making numerous TV appearances and hosting his own show, Wayne Dobson: A Kind of Magic. In 1988, Wayne was diagnosed with multiple sclerosis. This did not stop the man from performing and creating. In 2004, he was awarded the Maskelyne Award for outstanding individual achievement, and he still creates, performs, and lectures. Confined to a wheelchair and not even able to move his hands, Dobson fields McBride's questions with wit and charm. While it is sometimes difficult for him to form the words he wants to use, he exudes confidence and his quick wit slays McBride and the entire audience, demonstrating why Dobson gained the fame he did.
Interspersed between the heartwarming and light-hearted presentations this morning are performances by Xavier Mortimer. While the name might mean nothing to you now, it will, and from the looks of things, very soon. Mortimer is someone Stan and the gang tried to bring over for this convention in 2011, but couldn't make it work. Now, he's one of the four leads in Michael Jackson One at the Mandalay Bay casino. While he works nights, he was willing to get up early and come perform a little of his repertoire for the session. Mortimer, a French performer who blends circus, mime, comedy, and magic, delivers three vignettes: a Dancing Cane number that is more beautiful than a Dancing Cane routine really has any right to be; a bizarre but incredible routine in which Mortimer interacts with his own reflection in a full length mirror — a reflection that moves independently of Mortimer's physical form; and a noisy number that has Mortimer producing items atop and from within his cymbals.
Another Lunch
Yesterday's lunchtime realization, while still very valid, begins to pale when I find myself sitting and conversing with my friend David Bull in the hotel's sushi restaurant. David played Le Grand David for the past 35 years in the recently closed show Le Grand David and His Own Spectacular Magic Company in Beverly, Massachusetts. Today, he is regaling me and my friends with stories from his professional and personal life. The conversation is so engaging that I don't once think about the fact that I am about to eat sushi in a restaurant that is smack dab in the middle of a desert, over 310 miles away from the nearest ocean. Good friendships can do that — they can give your life fulfillment while, at the same time, taking your mind off of salmonella.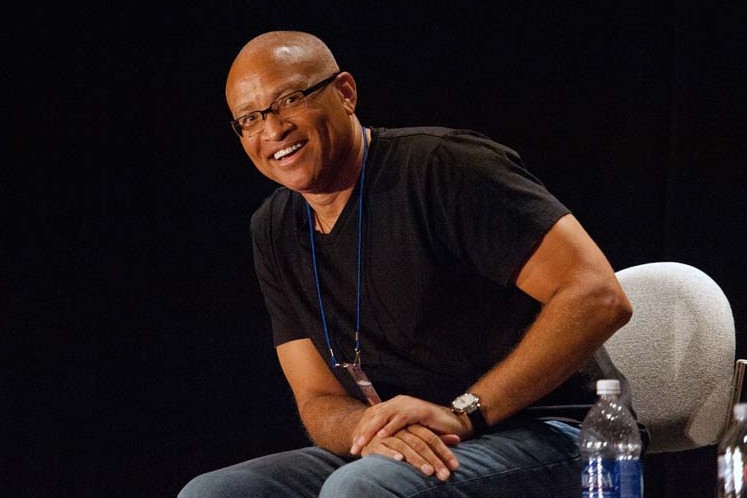 Tuesday Evening
The MAGIC Cabaret show leaves me cold, and I don't know why, exactly. The starring performers are two of my favorites — well, three if you count John Carney as himself and the eccentric Mr. Mysto. John and David Williamson perform for the crowd independently, presenting the audience-tested material that they've been doing for years. They kill, naturally. David's frenetic style is a wonder to behold. As a comedy magician myself, David's work is a definite study tool. The same goes for John's delightful Mysto character. This time, however, while the performers are funny, for some reason the audience does not respond to the brilliance that is going on up there, and it may have just overtaken the room.
I stumble into my room with the intention of getting a little more sleep than I did last night, but a nightcap and paging through the notes that are distributed to each attendee at the end of every day makes sleep a secondary requirement. Today's notes include the Focus Session presented by Gaëtan Bloom and Kevin James, during which the two friends revealed how they first met. It's a story that begins with the Crazy Horse in Paris, and ends with Kevin publishing an enormous two-volume set of Gaëtan's original magic effects — a set launched at this very convention. Gaëtan and Kevin revealed the secrets to how to lasso a card from a hat and how to produce fifteen tennis players on an empty tennis court. And I am pleasantly surprised to see more tricks explained in the notes than they had the time to teach in the session.
The pages also contain notes from the "Experts at the Card Table" breakout session, in which Allan Ackerman, Jason England, R. Paul Wilson, and Steve Reynolds each taught one card sleight or technique to small groups, making the hands-on element optimal.
Absent from the pages, unsurprisingly, are notes on Johnny Thompson's dove workshop from earlier that day. Johnny only presented this lecture once before — in Italy.
With my glass empty and the MAGIC Live binder of notes closed, I climb into a very inviting bed with great anticipation of what the next morning will bring.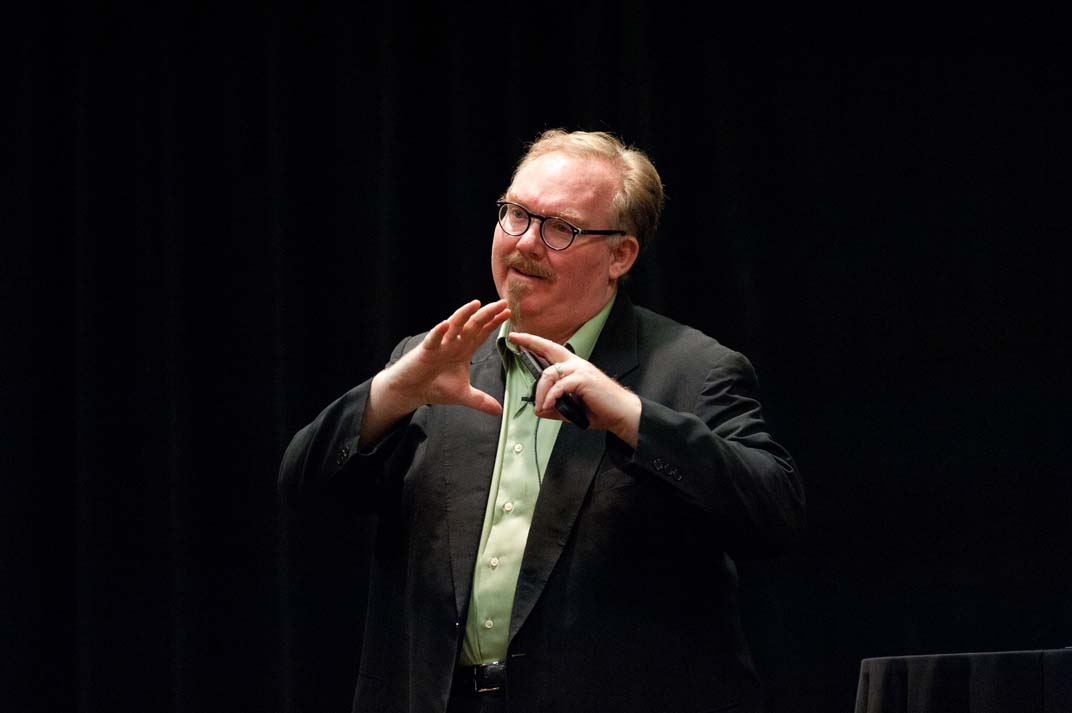 Wednesday, Part One
If there's one thing better than being at a magic convention, it's being at a magic convention on your birthday. Yes, today is my birthday. And I was born on a Wednesday. My first gift is to stay in bed a little longer and enjoy it.
Once I am showered and dressed, I make my way to the coffee joint and once again find the line frustratingly long. But this morning I have the time and, damn it, I am buying myself some coffee! You never know who's going to be the host of this morning's session. Thanks to Facebook, countless people wish me a happy birthday, not only as I stroll across the hotel to the main theater for today's General session, but continually as the day goes on. "It's good to have friends," I think to myself as I take my seat and prepare for the final day of the convention to begin.
As the session opens, I smile as I realize that I needn't have worried about this morning's host at all, although some of the people in the audience might have reason to. Because Michael Weber, our host, is bad ass, my friend. His wit is sharp and targeted. Quite often, many of the acts and attendees already seen at the convention are the ones with bullseyes painted on them. Weber's aim this particular morning would make Oliver Queen weep with joy. The humor in his opening presentation of the "MAGIC Live News" is simultaneously funny and biting.
His take-charge attitude continues on throughout the morning as he interviews Alan Edelstein — the director of the Ricky Jay documentary Deceptive Practice, which was shown at the convention — and introduces such speakers as Joanie Spina, Master Payne (again), and Fielding West.
Master Payne brings down the house with a hysterical dissertation on ordering tricks through the mail when we were children. A video of him delivering this speech has been floating around the Internet for a while now, but his live presentation is wonderful to see.
Comedy magician Fielding West speaks of — I'm not kidding here — his days working with a psychic surgeon, and he re-creates a psychic surgery with a member of the audience, complete with blood, tumors, and chicken parts. He sells a DVD that includes — again, I'm not kidding here — the realwork on psychic surgery.
By far the most memorable moment of the session is Joanie Spina's presentation. First, for those who do not know, Joanie is suffering from a respiratory illness and is on oxygen. She wrote the "Directions" column in MAGIC Magazine for four years. In it, she taught techniques and offered suggestions on improving your act. Having been David Copperfield's chief assistant for many years, a performer on her own, and with directing credits on a number of other shows, she probably knows what she's talking about. And she proves it in Spades this morning.
Joanie tells the story of Patrick Thernes, a magician whose stage name is Sir Pat-Trick. She talks about their first meeting and how she took a look at his original DVD in 2011 and thought how joyless it was. In fact, she even found it depressing. After some suggestions from her, she received another DVD. Better, she said, but still not right. Some friends gave Patrick some tough love, suggesting that the character did not work for him and making him aware of his "denial of physique" that was evident within the act, and Patrick switched gears completely and became happy, upbeat, and energetic onstage.
"I nearly fell out of my chair," is the way Joanie describes her feeling after watching the new DVD Patrick had sent her.
Through Skype, Joanie worked with Patrick on music choices, and soon the act was ready to present. And so they do. Joanie announces that the trip to Vegas was Patrick's first trip on an airplane, and that he is nervous. I should think so! Performing a magic act of your own devising for a room busting at the seams with your peers? No pressure. [See "A Moment with Sir Pat-Trick," page 27.]
The very first DVD that Joanie received from Patrick is shown, then Joanie introduces Patrick. The moment he walks out onstage, one can see the striking difference in the way he presents himself. The act is already ten times better than what we have just seen on the screen, and all he has done is walk into view.
When his act is finished, the entire theater leaps to their feet and applauds until everyone's hands are red. Patrick is visibly touched and breaks into tears at the standing ovation. All of that hard work has paid off, and now here he is, performing in Las Vegas. Joanie walks out onstage and joins him. They embrace and both of them cry. And so did we. The overwhelming emotion, combined with Patrick's underdog spirit and our the knowledge of Joanie's sickness, is too much to hold in. We cry and applaud and cry some more. It is now that all of us feel the final blow of that two-by-four of emotion and hear it split with a resounding crack! with splinters of wood flying in every direction.
Seeing Patrick out in the hall, I approach him and ask how he felt the show went. He smiles as he says, "My only goal was just not to pee myself."
Wednesday, Part Two
A quick lunch and then the Focus Sessions. This afternoon's offerings include Ian Rowland, who writes the "Loving Mentalism" column for MAGIC. He manages to pull off a seemingly impossible feat: giving an interesting, attention-sustaining lecture on mentalism. At the same time, you can see Joshua Jay, Andi Gladwin, and Gregory Wilson teaching and demonstrating new effects in the "Talk About Tricks" session. Also appearing is Magie Nouvelle, a performance group consisting of Raphael Navarro, Valentine Losseau, and Yann Frish. The Magie Nouvelle folks talk about their approach to magic and performing arts in general, which is quite different and thought-provoking and results in some lovely performances from their students, as demonstrated in the video clips they brought along, and through Yann's own FISM-winning act. We had seen it performed live in the Close-up Experience show, but now seeing it deconstructed and the moves demonstrated, and realizing how those moves are entirely counterintuitive to what most close-up performers are used to — well, it's jaw-dropping.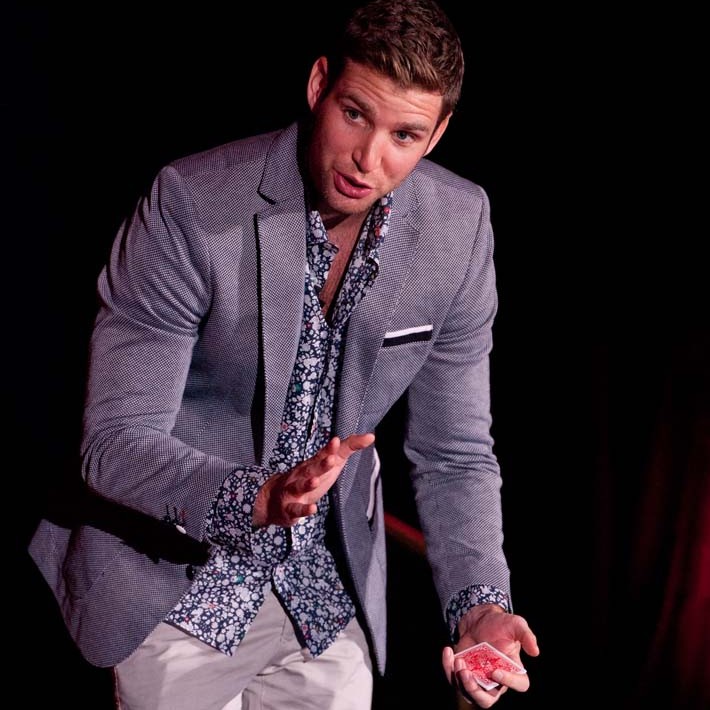 The End is Near
Gala shows can make or break a magic convention, and with all of us facing the end of what has been a strong offering of talent and events, Live Onstage — the Wednesday-night stage show — begins in such a way that it seems as if we might all be returning to our rooms tonight, shaking our heads and muttering something like, "Well, at least the rest of the convention was enjoyable." But despite how the show began, it gains momentum like a snowball rolling downhill, and it becomes a huge force to be reckoned with.
The show opens with Erix Logan, an illusionist who presented some new twists on standard illusions that I felt were somewhat pointless or unneeded, or just didn't work properly, as in the case of his Impaled presentation using a giant pair of scissors.
Things pick up a bit when our host for the evening, Topas, is introduced. Topas is a lively entertainer with routines that are whimsical and playful. A good choice as emcee.
Next is another appearance by Gaëtan Bloom. When he begins talking, I realize that we might be in for a long ride. Don't get me wrong, Gaëtan is a wonderful performer and original thinker, and he will fool you badly, but once he gets talking…. And sure enough, Gaëtan sticks to his established pattern: he entertains and fools, but he goes long.
Danny Cole's act is one that I have seen countless times and it never fails to entertain. It doesn't this time, either. His struggles with a chair, all in an attempt to sit and read, are very magical and artistic. The show is beginning to pick up.
Michael Carbonaro's shaving cream routine is something that this likeable performer with the boyish good looks has been presenting in theaters for a number of years, and while it's not really magic per se, the transformations he morphs in and out of, all with the help of mounds of shaving cream that he sculpts into different configurations on his body, give us a glimpse into this guy's Barbasol-induced dreams.
Another act with very little magic but very much magical effect is Ted Kim. This highly original act uses projected images to create magical-looking transformations and productions. The images, many of which eventually become real, mesmerize the audience. As the standing ovation for Ted subsides, the excitement is building to a fever pitch.
The old adage that the one act that will consistently steal the show at a magic convention is the juggler holds true here. The penultimate act is Paul Ponce, and all I can say about this man's juggling abilities and high-energy performance can be summed up in three words: "Oh," "My," and God!" I've seen a lot of jugglers. I've enjoy most of them and have been impressed by their talents. But — holy crap! Ponce comes out onstage, grabs us by the retinas, and drags us all around the theater. His finale of juggling hats by throwing them out in Frisbee-fashion so they'd spin out and return to him, all while walking off the stage, through an aisle in the audience, back up onstage, and through the center curtain for his finish leaves me exhausted, sweaty, and panting — a condition I don't normally reserve for jugglers. He receives a well-deserved standing ovation.
What can possibly follow that?
Why should anything follow it? Well, since it is a magic convention, it seems only reasonable that the show should end with a magic act. And the choice is sublime.
FISM Grand Prix winner Yu Ho-Jin appears center stage and, without moving much from that spot, mesmerizes, astounds, and engages the audience with his elegant card manipulation act. I am not a big fan of manip acts, but Yu Ho-Jin is astounding. It is only after the applause dies down that Topas informs the audience that Yu was in a serious car accident shortly before the convention. Yu was still recovering but insisted on keeping his word to perform at MAGIC Live! This makes what we all have just seen even more amazing.
When I talk with Stan after the show, he tells this story. "The final night's stage show was designed to end with a soft ballad, if you will — specifically, Yu Ho-Jin. It was going to be Ted Kim, Paul Ponce, then Yu Ho-jin — something totally new and different, followed by a high-energy juggler who would fill up the space with hats in the air, and then soft and out! Everything was all set, up until three weeks before the convention. I received an email telling me that Ho-Jin had been in a car accident, that his leg was pretty bad, and it would require multiple surgeries and five to six months to recover. Within a few days, I was proposed a number of substitute acts, all very good, but none of them fit the show I had built. I started calling a few friends for advice, and filling a whiteboard with possibilities. Again, none of them really fit. Just about when I was ready to start restructuring the show, I was contacted and told that Ho-Jin might be able to make it. I couldn't believe it. But ultimately he did, changing his ticket to business class for more room, resting for much of his first few days here, and he was in a wheelchair throughout. He could not walk. Fortunately, he hardly moves at all in his act, and his wheelchair was just off in the wings."
Talk about a force to be reckoned with!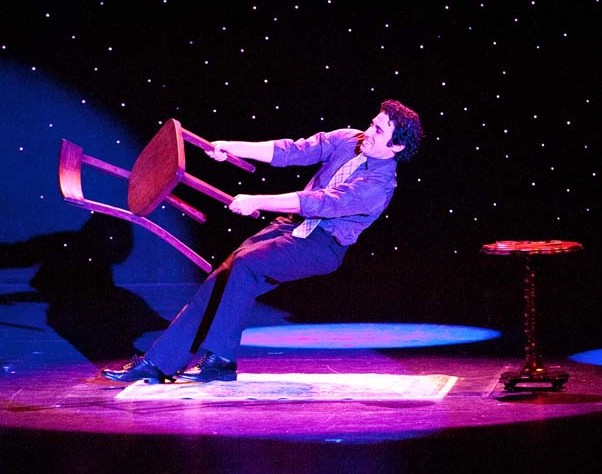 Finally
As a final send-off, each MAGIC Live ends with the Finally Party. In past years, this has simply been a place to share desserts and drinks with friends one last time before parting ways. This time, however, Stan has one last surprise. As we all gather around the stage in what had, just hours ago, been the dealer room but is now a room with a nightclub/lounge feel to it, Stan makes the announcement that a legendary magician is retiring his act and has agreed to give the final performance tonight. And with that, he introduces "The Wizard of Warsaw — The Great Tomsoni and Co.!" The live band plays Johnny's music and we all stand dumbstruck as we realize that we are being granted the privilege of attending this magic icon's farewell performance. [See "A Moment with The Great Tomsoni," page 29.]
A thunderous ovation follows, and out onto the stage, as a total surprise to Johnny and Pam, walk their friends Penn & Teller and Lance Burton. They all speak and pay tribute to Johnny and thank him for all he has done for them in their careers. After that, Lance's showgirls, who have not been together since the closing of Lance's show three years ago, present celebratory cakes with caricatures of John and Pam on each, which are then sliced up and distributed to the attendees, ending the evening on a magic-and-sugar high.
And…
I'm now back in my hotel room, with visions of the last four days whirling around in my brain. It's hard to process it all, but that is exactly what needs to be done: put the past four days' experiences into some coherent order and take stock of its value.
Where's the Maker's Mark?
At the very least, there is always the value that comes from being among people with whom you share a common interest, whether you know one another or not. But at this convention — the"Friends" convention — that value was increased by an overarching sense of good will and camaraderie. As I pour my glass of Maker's and finally find and upload the episode of Breaking Bad that I missed last Sunday, a realization sets in. We all benefit from one another through this common interest and the friendships we've made — not only here in the desert, but in magic overall. And this MAGIC Live has been an absolute confirmation of that.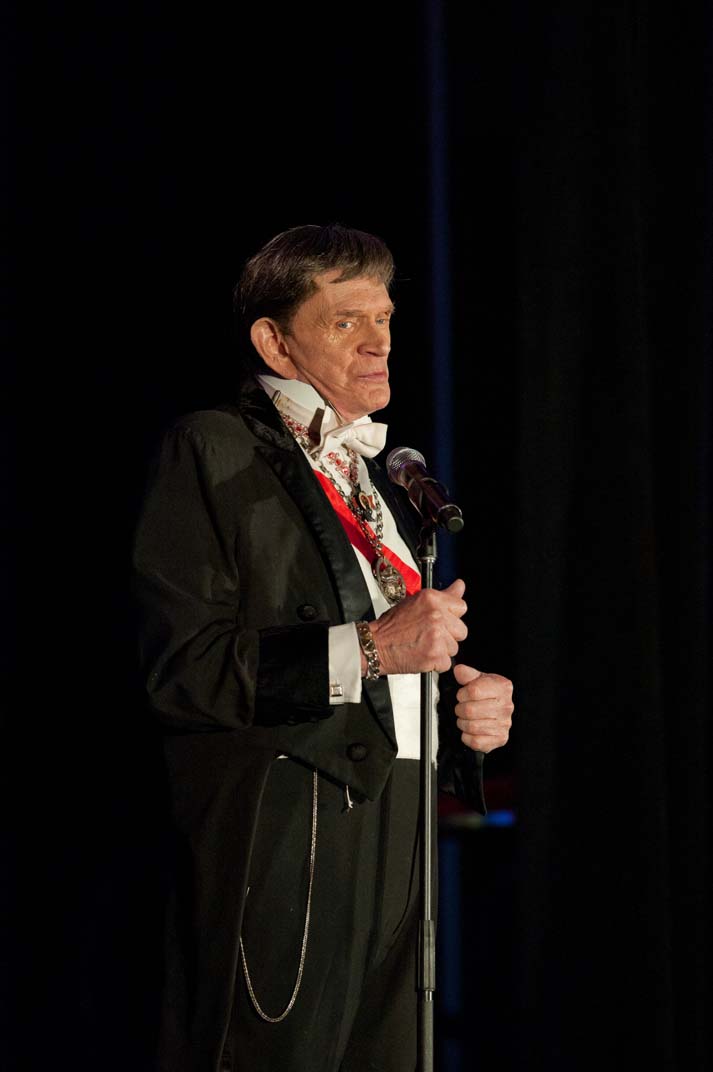 That's what happened in 2013. What will happen in 2015?